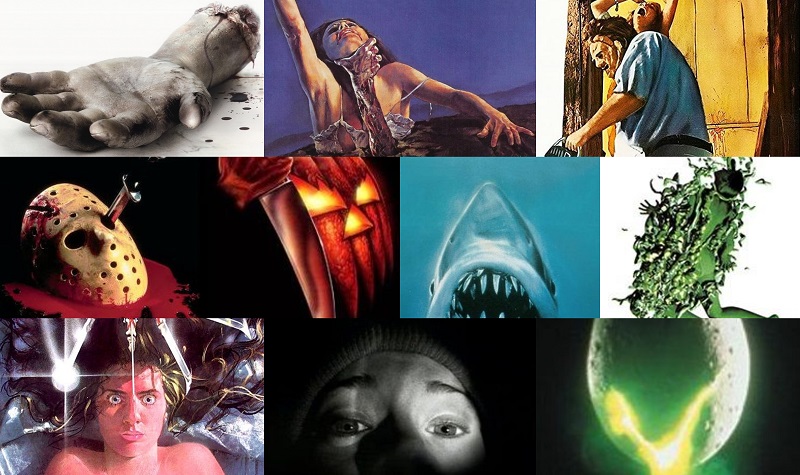 When horror movies exploded in popularity in the 1980s, this also happened to coincide with the rise of the very young medium of video games, which resulted in some early meetings between the two. What followed was a long history of film studios licensing out their titles to videogame studios to create co-marketing efforts that would span across both mediums.
Sometimes the game creators took more inspiration from or had strong adherence to the films' source material, and sometimes they strayed liberally from them. Other times, the games were side-stories or spinoffs of the original film, meant to tell their own story within the universe.
While tons of video games based on movies exist, only a select few of them are based on horror movies specifically. It can be said that most horror games take large amounts of inspiration from horror films, but it's not as common that the games get to use the actual film property within their interactive creation. The results of when the two mediums meet have always been mixed in quality and reception but have resulted in some truly great horror games from time to time.
This retrospective will focus on certain chronological eras and dig a little deeper on various film franchises that have received several licensed videogames through the years. We'll take a look at the history behind these games, as well as how they turned out.
---
The 1980s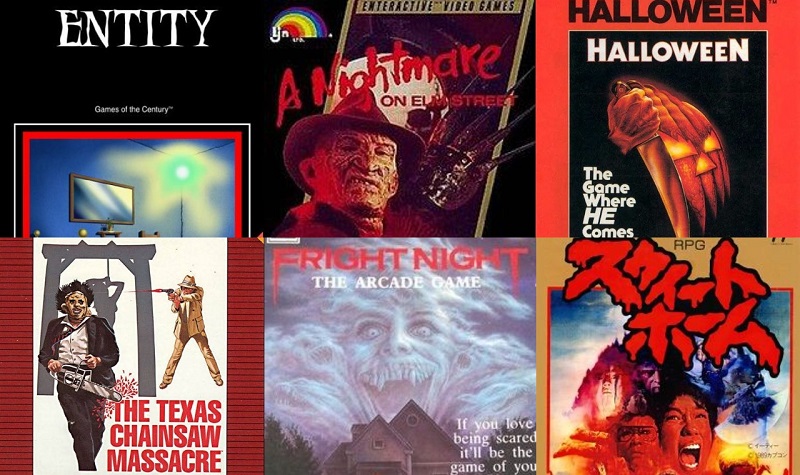 While videogames and computer technology may have been very limited in most respects in the 1980s, it didn't stop developers from trying to create games that would channel the energy of the films they were tasked to mimic.
The Atari 2600 saw several games based on horror franchises, including The Texas Chainsaw Massacre (1983,) where you chase and kill young girls as Leatherface, and Halloween (1983), where you play as a babysitter tasked to rescue children from Michael Myers. Aside from those games, there was also a prototype of a videogame for The Entity in development around 1983, which never saw the light of day, but it wasn't much more than a modified Breakout clone and had nothing to do with the film besides the name.
Unfortunately, the Atari games didn't evoke their respective films' spirits due to their hardware limitations (not to mention they were tough to get a hold of back then). Sometimes it's the thought that counts, though.
Other 1980s hardware also saw games based on films, such as Nintendo's NES/Famicom receiving games like Capcom's Sweet Home (1989), based on a Japanese haunted house film, and which would later become the loose inspiration for Resident Evil. The NES also brought 80's horror icon Freddy Krueger into your home with his own A Nightmare on Elm Street video game in 1990. While Sweet Home was mostly a traditional JRPG by design and Nightmare was an action platformer, they still stand as attempts to bring on-screen horror to interactive entertainment during an early age of gaming.
Even though Steven Spielberg's Jaws is arguably a true horror film by nature, it also received no less than six videogame adaptations, starting in the 1980s. It saw releases on ZX Spectrum, PC, NES/Famicom, PS2, Xbox, Wii, and mobile devices. Titles include Jaws, The Computer Game, Unleashed, Ultimate Predator, and Revenge.
Lastly, there was a game adaptation of Fright Night in 1988, based on Tom Holland's classic child-centered horror film from 1985, which saw a release on the Amiga computer system and also manifested as a sort of side-scrolling platformer.
Alien games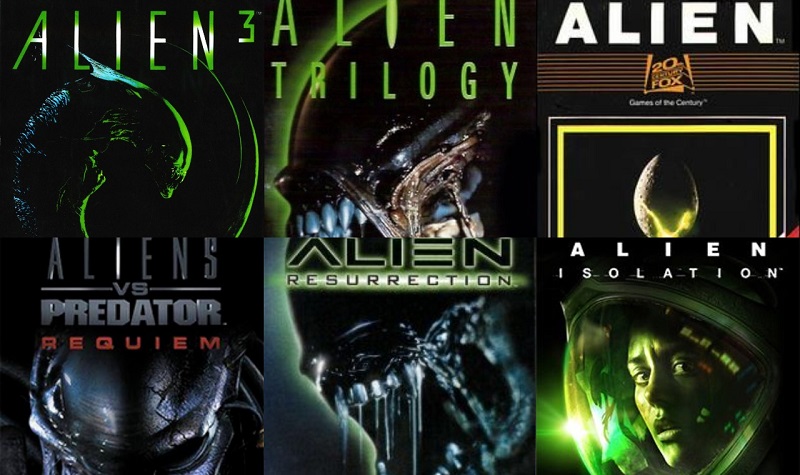 While it's much-debated if the Alien series is entirely horror, since it had mostly become a bonafide action series by around the 3rd installment, the original Alien film is still one of the most successful sci-fi horror films of all time. As such, the series has also had the most video game adaptations of any horror-related film property in history.
The styles of gameplay and attributes the Alien games have showcased over the years have varied greatly, from first-person shooters to side-scrolling platformers, beat-em-ups, survival horror, arcade action, light gun, and pinball, just to name a few. Out of all those games, the only one that truly focused on horror in the gameplay was Alien Isolation, which is one of the most respected horror games of the 2010s bar none, but some of the others may also be worth a look if you're into the film series.
Friday The 13th games

When Sean S. Cunningham's first Friday the 13th film released in 1980, it started a new era in horror films and kickstarted the slasher sub-genre into its heyday almost overnight. It has also received several video game adaptations over time, with each playing rather differently from the next and being released in two very different decades of video game technology.
Starting in the 1980s, we received the games for the ZX Spectrum/C64 (1985) and NES (1989,) both of which put you in the shoes of a camp counselor trying to use your resources to escape the deadly campground with your life, your friends, and the children.
The ZXS/C64 game was a very primitive – and ultimately pointless – game that had no real end, and you just kept killing Jason eternally until you got tired of it. Similarly, the NES game is often considered one of the "worst games ever" because of its difficulty and for featuring several supernatural elements that had nothing particularly to do with the films. You eventually got an ending in this version after killing Jason three times, which amounts to a new picture of a dead Jason plus some new music and the option to replay the game.
Finally, in 2017, Friday fans got what they had wanted for almost 40 years, a game where you got to play as Jason and kill some camp counselors. Friday the 13th: The Game was a labor and love project by Gun Media and Illfonic, who took on the hefty deed of bringing the Friday franchise into the modern interactive era. With the help of many alumni from the film series, they ended up making what is still the best asymmetrical multiplayer game to date.  Friday the 13th: The Game is chock full of history, lore, and love for the film series, not to mention some great horror elements to the gameplay as well.
2018 also saw the release of Friday the 13th: Killer Puzzle, which is a spinoff of the game Slayaway Camp and features you in the role of Jason Voorhees, solving dozens of isometric logic puzzles to strategically kill as many counselors as you can with the smallest amount of moves. Of course, it didn't change the world, but it's a lot of campy fun and strategy puzzle gameplay.
Evil Dead games

Another unlikely candidate for video game adaptations that somehow received several of them is Sam Raimi's Evil Dead series. If you had only watched the terrifying original 1981 Evil Dead film, you'd certainly wonder how they could possibly make a video game of it, but that didn't stop them from trying.
While the first game arrived on the antiquated ZX Spectrum/C64 platforms in 1984 and featured some simplistic puzzle-platformer gameplay that didn't do much of anything to link it to the films, the series finally did get some more faithful adaptations later on.
In 2000, Hail To The King released on PS1 and Dreamcast and was a sort of a re-telling and expansion on Evil Dead 1 and Evil Dead 2, with the original cabin in the woods and some clunky survival horror gameplay to go with it. It wasn't great, but it's the closest you could get to re-living the original films in interactive form.
Later, in the PS2/Xbox generation, we saw two more Evil Dead games, Fistful of Boomstick (2003) and Regeneration (2005). However, it could be argued that these games were more based on the comedic sensibilities of Army of Darkness or what would later become Ash vs. Evil Dead, but I digress. These games played more as 3rd person action games where you hack, slash, and shoot your way through the zombie and monster hordes while Bruce Campbell spouts wisecracks the whole way through.
Though there have been half a dozen other Evil Dead games that have reportedly been in the works in the 15 years since Regeneration, none have seen the light of day. We may get another at some point, but for now, it remains dormant.
The 1990s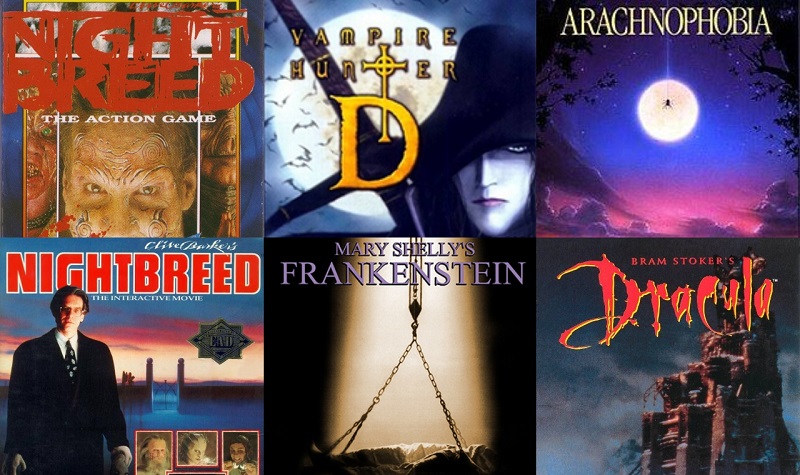 The 1990s were a pretty sad time for horror films. Major Hollywood studios started to stick their fingers into the genre. They began gentrifying what was one of the strongest and most experimental genres in the previous decade of filmmaking, on top of killing off most horror films that tried to do something new. Similarly, the video games based on horror movies from this same period were strange, sad attempts to over-commercialize the films and they never really ended well.
The decade started with Clive Barker's strange NightBreed games in 1990, one of which was an arcade action title for ZX Spectrum/C64 and one that was an interactive movie, released for MS-DOS PCs. Neither did much to bring real horror into the gameplay or to stoke people's attention in interactive form.
1991 saw the release of the Arachnophobia game for PC, developed by Disney Software. While some may argue Arachnophobia isn't a full-on horror movie, it certainly had enough elements of horror to keep the tension pretty high, especially if you have any fear of insects or spiders. The game had you playing as an exterminator, driving from place to place, and killing spiders with a blowtorch to save the town from the infestation similar to the one in the film. It's mostly a hokey action game but is decent for its effort to connect to the film.
Now we get to the big elephants in the room: the 90s adaptations of Bram Stoker's Dracula and Mary Shelley's Frankenstein. Since Hollywood had gotten tired of the interesting horror movies from the 80s and their legacies reaching back to the 1930s, they decided to turn these classic stories into boring, drawn-out drama films that just loosely followed the same story.
Naturally, they had to make some video game tie-ins to drive up the marking campaigns. 1993's Dracula received more video game versions than any other movie on this list, landing on seven different platforms, with several different versions of the game depending on which platform you played on. They range from 2D platformers to first-person shooters, action-adventure games, and arcade action, and none of them were particularly good.
Frankenstein saw far fewer versions (only three platforms) in 1994 and had two vastly different versions. The version for SNES and Genesis had poorly-executed Castlevania-like gameplay, with more of the same side-scrolling action gameplay. Just like the film, it didn't do much of anything interesting or horror-focused at all. However, the Sega CD version was more of a point-and-click adventure game with some small puzzles to solve mixed with some action segments that play out more like a one-on-one fighting game.
A 1999 game based on the anime horror film series, Vampire Hunter D also released for PS1, which is largely based on the film Bloodlust, which came out in 2000. The game played like a faster-paced gothic horror version of Resident Evil with swords and magic, but had some very clunky controls and progression that never quite satisfied, though it does get points for trying.
Parasite Eve games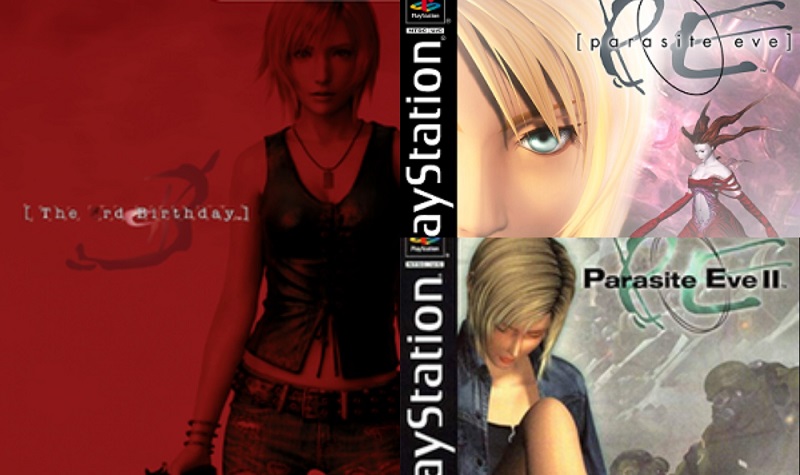 In 1997, Hideaki Sena's famous sci-fi horror novel Parasite Eve received a film adaptation, which was not very successful in Japan. But in 1998, Squaresoft also released a video game that served as a sequel to the novel/film, which started a series of much more successful games over the next few decades.
The gameplay is a hybrid of JRPG elements with tactical action combat and plenty of sci-fi horror elements rolled in. Just one year later, in 1999, Parasite Eve 2 released, featuring mostly the same kinds of elements and sticking to its guns for the most part.
After Parasite Eve 2, it took the series over 20 years to get a new installment, which came in the form of The 3rd Birthday (2010) for the PSP. Unfortunately, 3rd Birthday dropped most of the horror elements and went for more of a full-on action RPG, but still featured some of the same story themes and characters.
The games' creators have said that the development and continuation of the series are exceptionally difficult since the rights to the game series are also shared with the novel's author, so it makes progress harder than usual when trying to make new content or even re-releases of the games. Despite that, they have expressed interest to continue, so it may happen someday.
The 2000s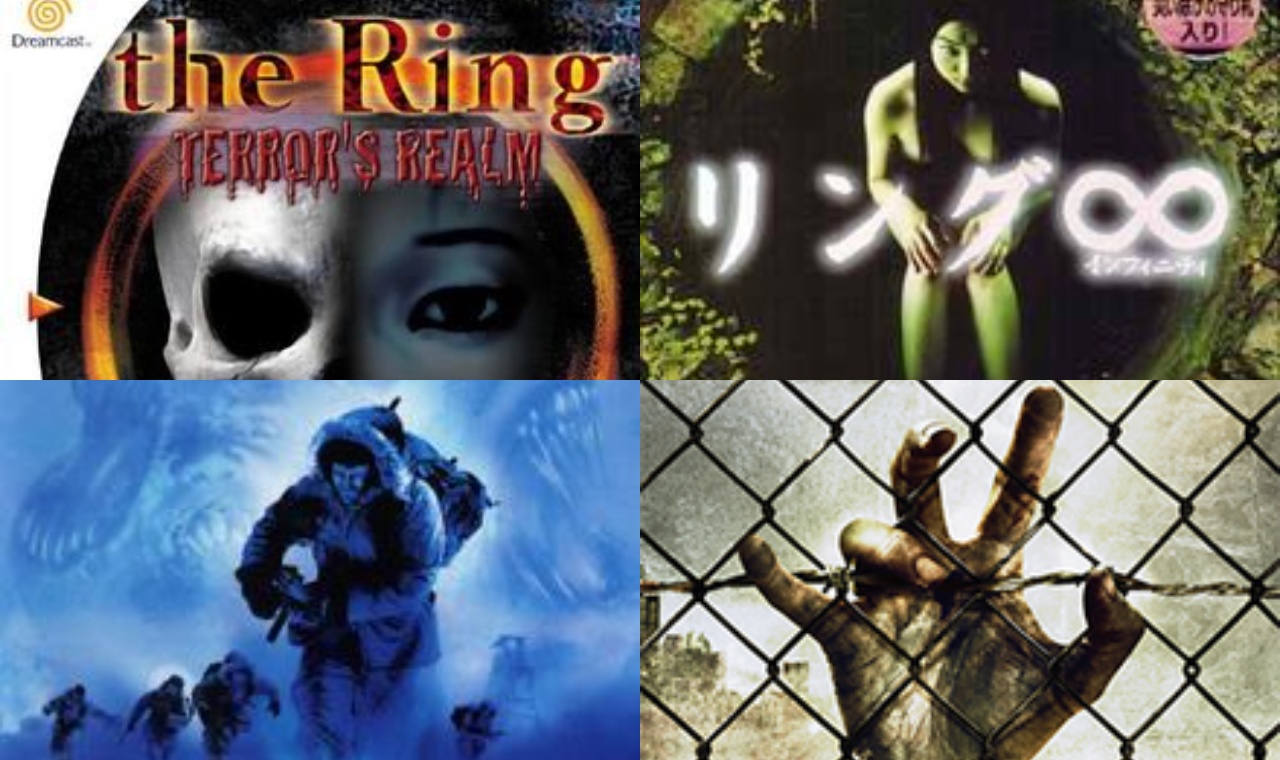 While the early 2000s were a sort of golden age for horror gaming in general, it seemed that film studios were getting over their fixation on trying to adapt horror movies into games, and we saw a decrease in the amount of these kinds of projects. There were still a few that did make it out, with some surprisingly good results in some cases.
Hideo Nakata's Ringu from 1998 is one of the most respected Japanese horror films of all time and is still inspiring copycats and sequels to this day, some 22 years later. In the year 2000, they decided they'd try to make a video game based on the film and book series. What resulted is one of the most catastrophically bad video games ever produced, with The Ring: Terror's Realm on Dreamcast.
It's hard to put into words just how clunky and bad this game turned out in every possible way. It felt more like the team was already in the middle of developing an awful sci-fi survival horror game and were asked at the last minute to throw in some vague references to Ringu in a few spots so they could leverage the film's popularity. The results certainly showed as this has gone down as one of the worst horror games of all time.
In the same year, another Ringu game released for WonderSwan called Ringu: Infinity, but it was simply a visual novel full of text and still images that mimicked the story of the book/film almost entirely, and was never translated to English in any form. It's been stuck in time on a console that died just three short years after arriving, and that never got released outside of Japan in the first place.
In 2002, the video game based on John Carpenter's classic arctic horror film The Thing from 1982 was released, set up as a sequel to the original film, and infused with all the same instincts and themes of the film. It plays out as a 3rd person survival horror game, with limited resources, limited visibility, and a constant sense of not knowing who to trust. You face off against alien creatures that are invading your ranks as you try to discover the fate of the crew from the original film, and the tie-in is very solid and respectable. The game is endorsed by Carpenter (an avid gamer himself,) who also does an uncredited voice role in the game, which is a rare honor from a guy whose reputation as a cranky old dude is undeniable.
When legendary filmmaker George Romero made his classic zombie films in the 1960s, 70s, and 80s, he inspired generations of people to fear the zombie pandemic long before we would live through a pandemic ourselves. He also inspired tons of creators in the world of film, television, and video games to create their masterpieces, including Resident Evil and countless others. He even directed the original TV commercials for Resident Evil 2, as if that wasn't a direct enough link.
In 2005, when Romero decided to return to the zombie film with his 4th installment, Land of the Dead, a spinoff video game of the movie was developed and released simultaneously, called Road To Fiddler's Green. The game plays as a first-person survival action game, with mostly melee attacks, since ammo for guns is extremely scarce. While it doesn't break any boundaries, it's a solid yet simple game and a good representation of Romero's zombie world in video game form, and it's the only official one we'll ever get.
Blair Witch games

When the Blair Witch Project movie released in 1999, it swept across the world, inspiring audiences to lose their minds in fear, and it began the biggest trend in horror films for several years to come, with the found-footage trope that's still as lively as ever today. Shortly after the release of the first film, production started on a trilogy of video games for PC which all released within the year 2000.
The first two games, Volume 1: Rustin Parr, and Volume 2: The Legend of Coffin Rock, were spinoffs that connected directly to stories from the first film, where Volume 3: The Elly Kedward Tale aimed to be an origin story of the Blair Witch legend.
All three of these games played like a fairly typical late-90s Alone In The Dark/Resident Evil game but with tons more focus on lore and story within the Blair Witch universe and has been praised as such, even if the gameplay is a little clunky and outdated.
In 2019, we saw the release of the newest game in the series, simply titled Blair Witch, and developed by Bloober Team, the folks behind Layers of Fear and Observer. This time, the psychological horror shifted into first-person and told the tale of a man and his dog getting lost in the woods and uncovering far more about the woods and themselves in the process.
The 2019 game is easily one of the best psychological horror titles in recent years and has seen releases on all the major modern platforms, including VR, as of a few months ago. It further expands on the Blair Witch lore, has references to all the films, and immerses the player in the deep, dark woods that have inspired so many stories before it.
Saw games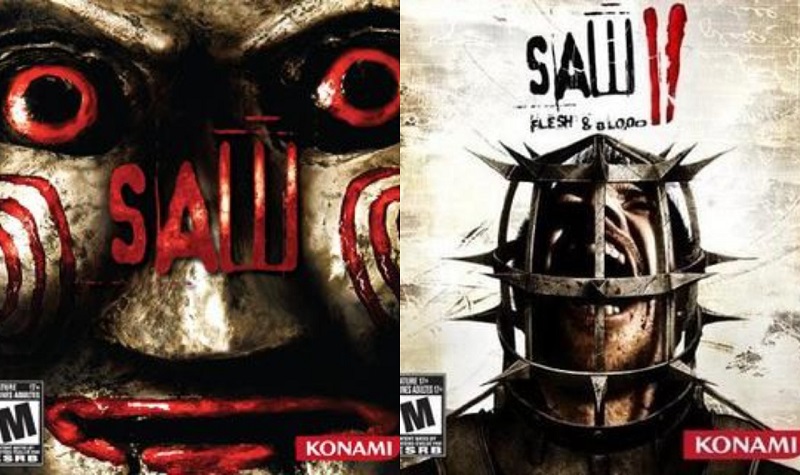 When James Wan's Saw film hit the scene in 2004, it started a sort of renaissance in horror films, though it's arguably one that didn't have particularly good results overall, since it inspired countless imitators and the formation of what's become known as the "torture porn" sub-genre. Though the film series quickly thereafter went downhill as Wan's involvement got smaller, by the time the series had hit its 3rd film in 2006, the production on the first Saw video game was in full effect.
After a little bit of development hell, the first Saw game finally released in 2009, and it's a very strange beast, since the production fell under Konami, and essentially ended up being designed as a spiritual successor to the Silent Hill series with a focus on traps and puzzles. You play as one of Jigsaw's victims and are set out to overcome one trap, test, and riddle after another, trying to finally outsmart your captor and escape.
The levels of gore and violence were pretty unsettling and extreme, as you'd expect, and not many games had ever tackled this type of realistic violence at such a high level before, which caused some equally extreme reactions from critics and gamers at the time. The series creators (Wan and Whannell) worked with the game team to write much of the story and come up with several ideas for game elements, and Tobin Bell returned to voice his famous Jigsaw character for the game, bringing a little more authenticity to tie back to the films.
The 2nd Saw game, Flesh & Blood, released in 2010, is mostly more of the same, which could be a good or bad thing, depending on what you're looking for, but it received similar reviews and reception, with not a whole lot being changed between the two. Both Saw games were released on Xbox 360 and PS3, so you can still somewhat reasonably track down copies today if you want to experience these for yourself.
The 2010s

The 2010s saw a bit of a resurgence in licensed games based on horror films, and even if the results are very mixed, it has led to several games that use the most modern advances in video game technology to bring the films to your fingertips.
Several games based on horror movies in the 2010s were developed using the advent of VR technology, which makes for some of the most purely immersive horror experiences that money can buy. It allows developers to try new things and deliver fresh experiences to the player, even if VR technology does present its limitations as far as what can be done in the gameplay department.
Some of these modern VR games are ones like 2017's Paranormal Activity: The Lost Soul, which allows you to explore a house very similar to those in the films, with all kinds of scares waiting around every corner and behind every door. Unfortunately, this results in some fairly lackluster gameplay and mostly meaningless jump scares with little in the way of active threats, tasks, or goals to accomplish. But then again, that's also what the movies are, so this is pretty expected.
2017's Don't Knock Twice is another recent VR horror game, which similarly plays like a haunted house simulator, full of jump scares, but also has some real goals and things you need to accomplish to progress in the game. While the game is nothing terribly special (just like the film,) it was Wales Interactive's first attempt at horror, which they were able to finally master and nail down for their next horror title, Maid of Sker in 2020.
The final VR game to mention here is 2017's The Exorcist: Legion VR, which technically has more in common with the recent Exorcist TV series, which in itself, serves as a sequel to the classic 1973 William Friedkin film of the same name and William Peter Blatty's books which inspired the films. The Exorcist VR experience is cited as one of the best in recent years, with true immersion and deeper gameplay than most VR horror experiences can offer. It inspires true feelings of terror from start to finish and is something most horror fans or Exorcist fans should experience if your heart can take it.
Oddly enough, everyone's favorite slasher villain doll who just won't die finally got his own video game in 2013, with Chucky Slash & Dash for mobile platforms. Unfortunately, it's just a Temple Run clone with strange Child's Play references thrown in here and there. It would've been nice to have a game where you play as Chucky and stalk people down, but that's not what they had in mind for his video game debut.
The last title to mention here is a weird one since it's not a game innately based on a horror film, but one that technically has more horror film pedigree than anything else on the market right now, and that's Dead By Daylight. While the game itself is an asymmetrical multiplayer game where four survivors have to subvert and escape from one of many horrific villains as the main premise, it's the subsequent additions to the game where it starts to pull its weight in horror cred.
While Dead By Daylight's in-house created killers were all generally inspired by something from a horror film, they eventually started to bring in several killers that were officially licensed from real horror film properties. These include Halloween, Texas Chainsaw Massacre, Nightmare on Elm Street, Saw, Scream, Evil Dead, Stranger Things, and even Silent Hill.
On top of the killers from the films being added, each killer also usually comes with a new stage and a new survivor character from that same film franchise. So, as of 2020, Dead By Daylight is full of licensed horror film content. The list of horror crossovers may be expanding even more soon, but with the amount of horror movie icons they've already been able to add into the game, it at least makes the honorable mention list here.
---
Hopefully, we'll continue to see more successful film-to-game crossovers in the future. The results can be truly great when the effort and the thought are there to make the game feel like an extension or expansion of the film universes we love. Since we're smack in the middle of the best time of the year for revisiting our favorite horror films, you might also want to expand your viewing into visiting or revisiting some of these games as well to top off your experience and have a little more fun.