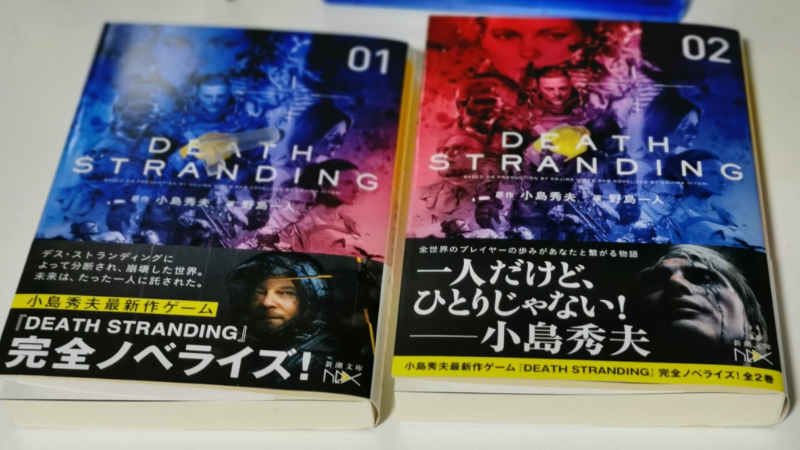 Something that has accompanied the games of Hideo Kojima through the years is that they go beyond the normal form of entertainment. He likes to have different perspectives for his stories to make it something unique. In the case of Death Stranding, the Japanese public can already enjoy the game's written novels, because they have debuted in Japan.
If you thought everything was said about Death Stranding, it seems that you were wrong because the promotional campaign is still active. According to a DualShockers report, the Death Stranding novels are now available in Japan and consists out of 2 volumes. These novels show an adaptation of the story starring Sam Bridges written by Kenji Yano, who participated in the game's script at Kojima Productions. In this publication, he chose to write under the name of Hitori Nojima.
A Twitter user who already acquired the 2 volumes confirmed the launch of the novel.
ノベライズ版「デス・ストランディング」を三宮のジュンク堂で買ってきました!?????
ついでに2冊ほど本を衝動買いしてしまった…?#DeathStranding pic.twitter.com/rKZ45UT1W6

— JonTaitan (@taitan_jon) November 28, 2019
Unfortunately, it is still unknown if the Death Stranding novels will release in the West. We will just have to wait and see what happens and if Kojima will release it. Fortunately, some good news is that the launch of the Steelbook Edition is happening in February 2020. This edition has a metal case that features the art of Pablo Uchida.
Death Stranding released on November 8, 2019, for PlayStation 4 and will release on PC in summer 2020.
[Source]