REmake 3 Preorders Go Live on UK Gaming Site
Another day, another Resident Evil 3 Remake leak, and boy are we okay with that! REmake 3 leaked a few days ago thanks to the box art being apart of a PSN new releases website that includes games added to the PlayStation store — whether they have actually gone live for sale or not. Today, UK online gaming retailer seems to have completely ignored any and all instruction they must have gotten from Capcom regarding street date for preorders, as REmake 3 has been added to their preorder-able games.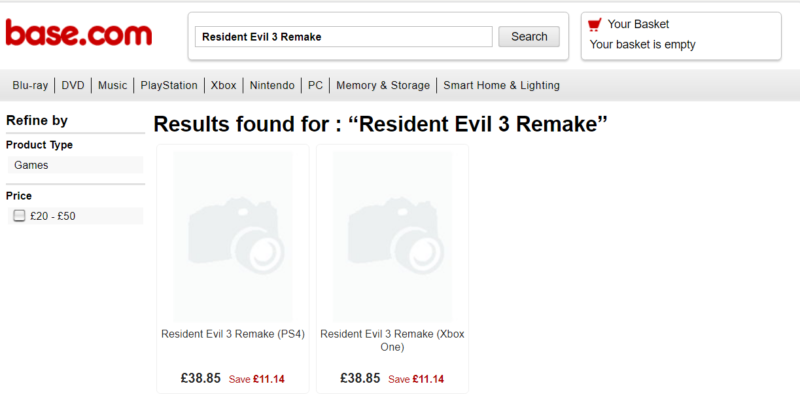 Available on both PS4 and Xbox One (no surprises there), this is yet another leak that helps cement the "soon-ness" of REmake 3's imminent reveal. While some had speculated that it would be among the ten or so Video Game Awards reveals, host Geoff Keighly shut that down during a Reddit AMA. This left fans worried that we might not see it until E3 of next year, but there was hope that a surprise PlayStation State of Play stream would crop up in the week or so before TGA that could hold the reveal we were all looking for. Low and behold, a State of Play stream was announced yesterday and will be premiering on the 10th — next Tuesday. All of this also comes with Project REsistance (now just Resident Evil: Resistance) being leaked alongside REmake 3, and there are still lots of questions surrounding the goings-on with REmake 2. If you weren't aware, REmake 2 received a new placeholder achievement on Steam, and has been going through rather routine updates on the developer side for the last month or so. Lots of stuff going on in Raccoon City, my friends.
We'll keep you updated on REmake 3 news, but for the moment I'd say it's only a matter of time now.
[Source]
Resident Evil 3 Remake wallpaper from Mattyxarope over on Reddit