NA's Resident Evil 7 Collector's Edition Is Actually Totally Different And Way Cooler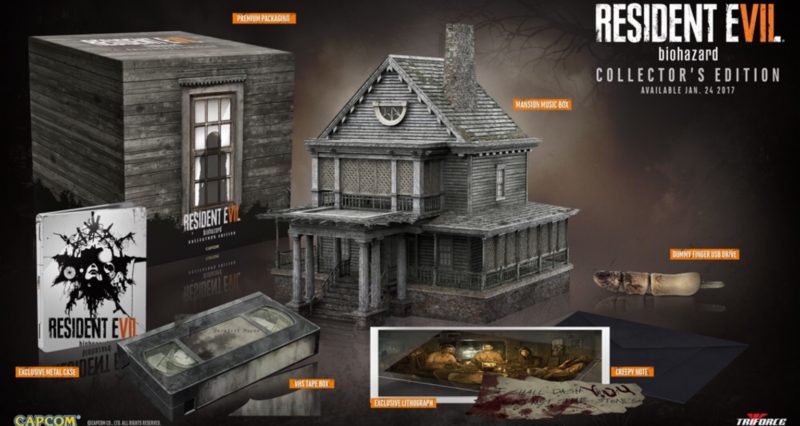 The flowchart continues…
So it turns out that Collector's Edition for Resident Evil VII: Biohazard we've been reporting on for the last week or so is totally not coming to the US, and is in fact a European exclusive edition. North America is getting a different Collector's Edition, and much to my astonishment, I like it even more.
Packaged in a special "house" box, the NA Collector's Edition includes Special Steelbook packaging for the game, an exclusive lithograph (shiny print-out) of the dinner table scene, a more game-accurate USB stick based on the Celluloid Finger (although this one is only 4GB, poo) that also comes with a VHS tape box for storing it based on the "Derelict House Footage" tape found in the Beginning Hour demo, a replica of the "I shall dash you against the stones" note from the demo, and finally a music box shaped like the Baker Family mansion, which plays Go Tell Aunt Rhody, as featured in Japan's exclusive PS4 dashboard theme. The house stands at 8″ in height, 7.5″ in length, and apparently lights up and stuff, too.
Just so we're all on the same page, I'll re-list all of the editions we know about (so far, there are now several).
Obviously the first version is Resident Evil 7's standard edition, which comes with just the game (although it also includes a number of bonuses for pre-ordering, including the Madhouse Difficulty) for $59.99. Next is the Steelbook edition, which is currently only known to be available in Europe for about $70, and comes with a bunch of extra in-game ammo and stuff. Then there is the Deluxe Edition (physically exclusive to GameStop), which comes with all the pre-order bonuses, some snazzy packaging, and RE7's season pass (which includes three DLC packs, each containing either a whole new story chapter or a handful of short side-story chapters) for $89.99.
For the truly frugal, there's the European Collector's Edition that includes the game, three exclusive interchangeable covers, a 20th anniversary edition art book, 5 lithographs, some sort of special DLC voucher (speculated to be the season pass), a replica finger 16gb USB stick, and a model of the Baker mansion. Finally, there's the Japanese Complete Edition, which is 16,490円 (about $150), which contains a completely different set of items: The uncensored Grotesque Version (which is the rest of the world's standard version), a set of creepy playing cards, a sample soundtrack, a heat-sensitive mug, coffee (?), rosemary seeds (since RE7's Green Herb is based on rosemary), and something called the Resident Evil 7: Inside Report, which I'm guessing is their version of the artbook. 
That's 6 different ways to collect RE7. Got dayum.
I need this edition, though. I really, really do.
[Source]