TGS 2015: The First Danganronpa Was Almost Too Repugnant
Danganronpa is not a cheery game, well sometimes it is, but it's mostly a murder-soaked romp. Would you have guessed that the game was toned-down from its original incarnation? The series writer, Kazutaka Kodaka, recently told Polygon that the working title for the game was Danganronpa Distrust. The game was altered to appeal to a wider audience, which appears to have worked as it has sold over 200,000 copies in the West alone.
"Distrust was the original image of the game obviously, and it was 'psycho shock,'" Kodaka told Polygon. "But at the end of the day, things of that nature that are that gruesome and that dark, the audience was too small for us to really want to pursue that to its end."
Unseen64 has a plethora of images of Distrust on their site. Did you know Monokuma was originally drawn as a man without skin on his left side? This image is going to be difficult to shake. I can't imagine Danganronpa without the lovable, sociopath bear. Plushy material this guy is not.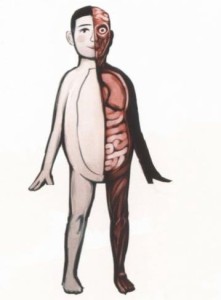 Danganronpa, developed by Spike Chunsoft, originally shipped on the PSP in 2010, and was re-worked for the PS Vita in 2014. The series has since grown into a franchise. The latest entry to the series, Danganronpa 3, was recently revealed at TGS.