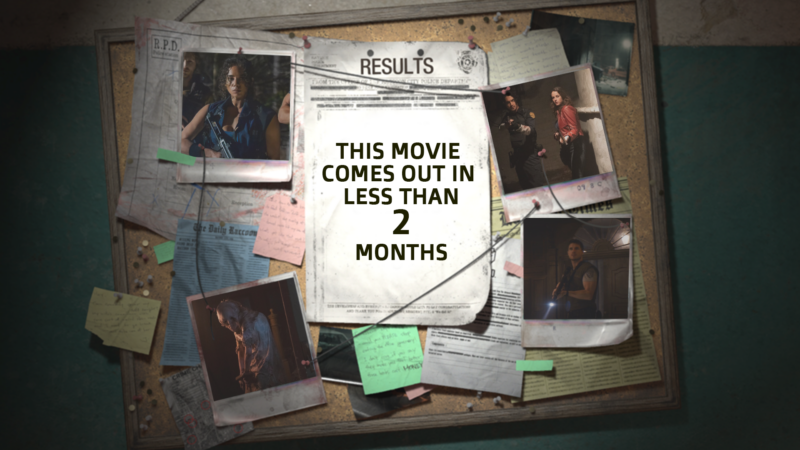 You'd be forgiven for being unaware that the new Resident Evil motion picture, titled Welcome to Raccoon City, releases in just over 50 days. You'd also be forgiven for not knowing who's in it or what it's about. This is largely due to the film's marketing, which (as of the time of this writing) has been more or less non-existent. It's been somewhat heartbreaking as someone who's very much looking forward to this film (and has been since the first set photos leaked last year thanks to fans) to see comments both here and elsewhere from fans that simply have no idea what this project is or when it's releasing. Despite all this confusion, the team at Constantine Films has yet to release any footage, let alone a trailer, even with the film releasing in less than two months.
This muddling has created a noticeable air of uncertainty that will no doubt hurt the film in the long run, since there's every chance it could release to an audience that doesn't even know it exists. Hardcore fans that have been making an effort to keep up with it know and were aware that it was pushed back from a September 9th release date earlier this year, but anyone more casual than that? Not even a little bit.

On top of all of this, the concurrent announcement for Welcome to Raccoon City and Netflix's upcoming Resident Evil series has left many confused as to which project is which, or that they're separate entities at all. In Rely on Horror's comments (as well as responses to my own tweets) I'm constantly seeing fans confused, assuming the two projects are one and the same, that one existed while the other was a rumor or that the Netflix Resident Evil that people were referring to was Infinite Darkness, which released earlier this year — which is completely separate from either of these two things. Even googling the cast list for the Netflix show led to a confusing mash-up of articles about both projects.
For the sake of doing our part, and to make it clear for anyone reading that's been confused by everything so far, I'll break it down:
Resident Evil: Welcome to Raccoon City – A new theatrical motion picture, adapting the first two Resident Evil games into one film, releasing November 24th. Starring Kaya Scodelario as Claire, Avan Jogia as Leon, Robbie Amell as Chris, and Hannah John-Kamen as Jill. This film is a reboot with no connections to the previous six whatsoever. With a supporting cast made up entirely of game characters (from major roles like Wesker to minor ones like Ben Bertolucci) and simply incredible 1:1 set recreations, the film is looking to be the closest adaption of the source material we've had yet.
Netflix's Resident Evil – An original, live-action series set to debut on Netflix sometime next year. It stars Lance Reddick as Wesker, with Ella Balinska, Tamara Smart, Siena Agudong, Adeline Rudolph, and Paola Nunez as a mix of Wesker's daughters (in both present and future post-apocalyptic timelines) as well as an unannounced character. The series tells the story of Albert Wesker's daughters living in New Raccoon City, 30 years after the 'discovery of the T-Virus', discovering the awful truth about their father, as well as a time skip to a dark, post-apocalyptic future.
Resident Evil: Infinite Darkness – A CGI animated mini-series which released on Netflix earlier this year. Featuring the voice talents of Nick Apostolides and Stephanie Panisello (reprising their roles as Leon and Claire from Resident Evil 2 Remake), this show followed Leon's investigation into a series of terrorist attacks that uncover a dark truth at the center of the US government's handling of the growing bio-terror conflict. This series is a canon entry into the game's lore and is set between the events of Resident Evil 4 and 5.
It's simply shocking that we're so close to release and the only official marketing material we have are a handful of subpar stills/promotional photos and vague promises made by director Johannes Roberts in interviews. It doesn't bode well for such a large film franchise (the previous six Resident Evil films grossed a total of $1.2 billion) that its latest installment has less marketing than films that release after it, like December's Matrix: Resurrections or 2022's Moonfall, which both had trailers released early last month.
With Resident Evil: Welcome to Raccoon City set to be the most accurate, faithful take on the material yet, the idea that a chance for a series of films that truly adapt the games being undermined by low box office returns thanks to non-existent marketing is frustrating. Regardless of the news film's potential quality, it seems to be trying at the very least. Hollywood has a history of axing planned sequels due to poor box office returns, and even with a series as big as Resident Evil, that doesn't mean that can't happen here. To have six films that barely included vague interpretations of game characters and events succeed while this film might fail simply because nobody even knows about it, seems nigh-sabotage levels of poor marketing.
We're keeping our fingers crossed for a trailer any day now but with each passing hour, the window for this film having any major public awareness dwindles. We plan to release a review as soon as possible when the film releases on November 24th.