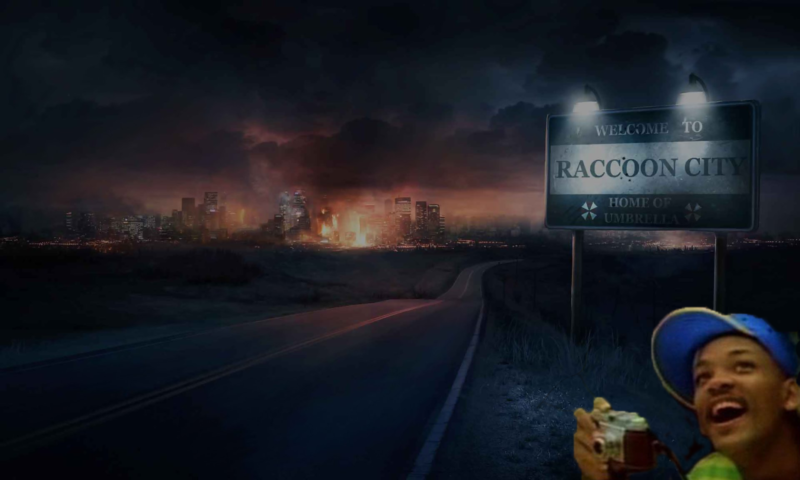 UPDATE: A little while after these photos made their way online, a new photo from the set of the new Resident Evil film has appeared! Thanks to Reddit user /u/Kindly_Operation3654, this set appears to very much still be under construction — but of all the photos we've seen so far, this one is making me incredibly excited. While it's still missing the iconic sign (not to mention any fixtures at all), this entryway facade is unmistakably the front entrance to the Raccoon City Police Department, almost brick for brick based on its Resident Evil 2 Remake look.
Seen people talking about how this might be the RPD entrance, so I decided to do a little side-by-side.

It's the RPD entrance. No doubt in my mind. pic.twitter.com/9wh9HbZNMD

— October ? Commissions Open! (@Sisslethecat) October 26, 2020
I'm uh, I'm screaming a lil bit here I'm not going to lie.
Original story: Things are finally really cookin' with the Resident Evil movie reboot. We've been hearing about it for quite some time now, but it looks like filming has finally, officially begun. Unlike the previous 6 Resident Evil films, which were only loosely connected to the games, the new film purports to be a straight-up adaption. Focusing entirely on the main cast of the games (Chris, Jill, Leon, Claire, Wesker, etc), the film reboot will be set in 1998 Raccoon City and combining the stories of the first two Resident Evil games. I'll take it over the thus-far abysmal sounding Netflix series, that's for sure.
Today we finally got some first looks at the film's shooting locations, as a small chunk of Sudbury, Ontario Canada has been transformed into Raccoon City. There isn't much to see, admittedly, but it's still kinda cool to see the Raccoon City sign and whatnot.
O filme reboot de #ResidentEvil está sendo filmado em Ontario (EUA). Estas fotos foram postadas ontem pelos moradores locais Ryan Bazi & @pinkharte; Ryan afirma que vários locais da cidade serão usados como cenários de Raccoon City, incluindo um hospital abandonado. #REBHFun pic.twitter.com/0Upt0zws9p

— EvilHazard (@EvilHazardBR) October 23, 2020
There's also an image of what appears to be the Spencer mansion, although it doesn't appear to be a set built for the film but rather a real mansion being used as a shooting location, which is fairly common with such complicated architecture (the Spencer mansion from the 2002 film was shot at the Schloss Lindstedt in Germany). That said, I'm not 100% sure on this photo, as it comes from Mono Memory. Love their music, but I can't verify their source (their sister), Go Nintendo linked to their photo originally along with the others.
My sister works in Resident Evil, so jelly pic.twitter.com/ZlQPIUuYTj

— Mono Memory (@monomemory85) October 23, 2020
I'm mostly hoping to see images of the R.P.D. building and the S.T.A.R.S. uniforms next (the costume design was one of the few things the original Resident Evil films were usually spot-on with). Recently watching Batman Forever I was struck by how perfect Surrogate's Courthouse (used as the office lobby of Dr. Chase Meridian) in Manhattan would be for the Resident Evil 2 Remake version of the R.P.D. front hall (obviously not 1:1, but regardless). We'll find out soon enough, I guess.
[Source]