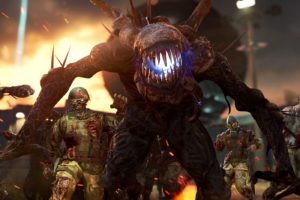 Considering how barebones content in Cold War Zombies has been, the addition of new maps is sorely needed. Fortunately, Treyarch recently dropped some info on the upcoming Zombies content in celebration of '115' day, shedding light on the new map alongside a few additional gameplay elements.
The new map is set at Outpost 25 (alternatively known as Firebase Z), which is located somewhere in Vietnam. Supposedly, commanding officer Weaver and the player arrive at the scene in hopes of retrieving Doctor Maxis from the Omega Group. Longtime fans will recognize the name Maxis, as he was an antagonist and supporting character in the previous 'Aether' storyline. This is more or less confirmation that elements from the previous universe will continue to resurface in Cold War Zombies.
The Dark Aether story continues in Season One.

FIREBASE Z arrives February 4th, free for all players.

Official map announcement: https://t.co/UfEUIvyDU3#BlackOpsColdWar #Zombies pic.twitter.com/iRTv5oSa2D

— Treyarch Studios (@Treyarch) January 14, 2021
The image above shows one of the new monsters we'll encounter in Firebase Z. Given its design, I'd personally wager it's another variation of the Margwa from Black Ops III and Black Ops IV, which would make sense given the connections of the Aether storyline. Additionally, Tombstone (a perk in previous Call of Duty titles) will return with some tweaks to its functionality. You can see a screenshot below will all the details. Firebase Z is also said to feature a new Wonder Weapon, although specific details have yet to be revealed.
On top of all that new content, there will also be a new multiplayer map coming to the PlayStation-exclusive Onslaught mode, but who cares.
Cold War is free to play until January 21st, and Double Weapon EXP is active until January 19th, so if you've had a passing interest in the game, or if you've been trying to convince a friend to play with you, now would be a good time. Cold War's Season Two starts on February, 4th and all the content discussed here will be available to all players for free.