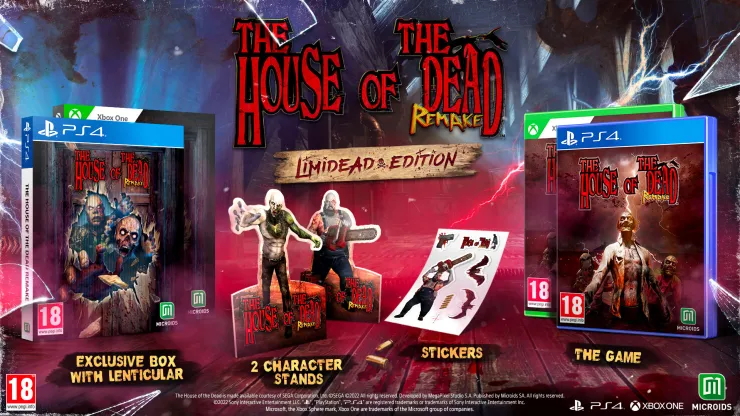 Good news for fans of physical media; it's finally been confirmed that The House of the Dead: Remake is getting physical releases on the other non-Nintendo platforms.
The physical publisher, Microids, has just confirmed that the game will receive the same "Limidead Edition" that was just released for Nintendo Switch this week, for the PlayStation 4 and Xbox One platforms as well, coming later this year.
This edition comes with a very impressive lenticular cover (I have the Switch version in my hands now), two nice character stands (about 5″ tall), a sticker sheet, and a neat slipcase that highlights the lenticular art, making for a very nice display set for any fan of the series.
After the recent updates to the PS4 and Xbox versions, which added PS Move and mouse support, respectively, both of these versions are much closer to a true light gun experience since using external peripherals for aiming is now an option. The PS Move aiming is the closest you can get to "official" light gun support, and the Xbox version allows for potential use of an air mouse, which can be fairly comparable to the Switch experience, at very least.
There are no listings to buy these editions yet, but they will likely show up over the next few weeks as the details for worldwide availability are ironed out by the publisher. They will likely be available on Amazon in the US, if the Switch version was anything to go by.
Stay tuned to the physical publisher, Microids' official channel for more details about these versions as they become available, and get ready to hold a new piece of HOTD history in your hands!
The fight is not over! 🧟 The House of the Dead: Remake Limidead Edition will be available on PlayStation 4 and Xbox One this year!

Le combat n'est pas terminé ! 🧟 The House of the Dead Remake Limidead Edition débarquera cette année sur PlayStation 4 et Xbox One ! pic.twitter.com/tUBzhgIT8l

— Microids l House of the Dead : Limidead Edition 🧟 (@Microids_off) June 14, 2022