Shinji Mikami is Attending E3, is it Evil Within 3 or…?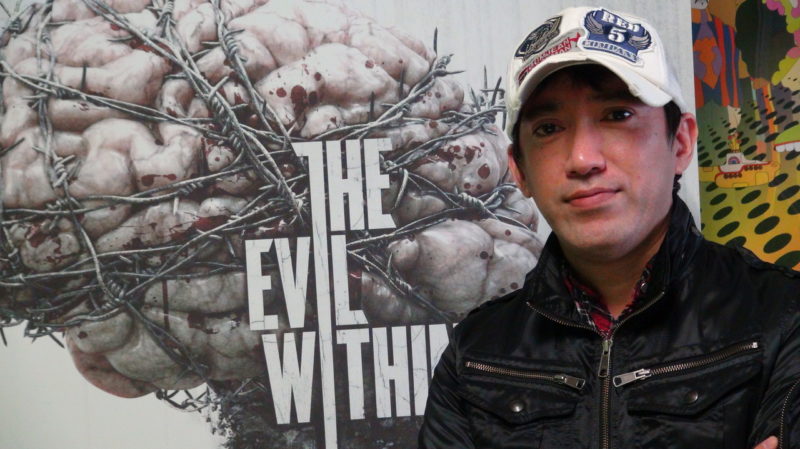 Uh, this is uh, this is very exciting, not to mention unexpected. Shinji Mikami, the "godfather of survival horror" (creator of Resident Evil, Dino Crisis, The Evil Within, etc) is attending E3 apparently.
来週はE3出張

— 三上 真司 (@shinji_mikami) June 2, 2019
There are, of course, a multitude of reasons he could be going, but there are a few specific reasons that are just… too enticing not to speculate on. First, and most logical option, would be The Evil Within 3. The Evil Within and its sequel are some truly mind-bending takes on the survival horror genre, acting as a sort of unlicensed 'greatest hits' of the genre. From the S.T.A.R.S. of Resident Evil (I mean the KCPD) to the inclusion of Silent Hill's Pyramid Head (I mean the Keeper) there's sort of something for everyone. The Evil Within 2, while not directed by Mikami, was great as well — although it had a very different tone and style (opting for partially open world crafting survival over the linear action survival horror of it's predecessor). While that game seemingly ended on a pretty final note, an after-credits tease suggested more to the story was coming, and if you read the Interlude comic mini-series it all but confirms it. I'd be curious what direction a third game went in, more of the former or more of the latter. I would kinda like to see more of the former — as much as I liked the sequel I missed the first game's gritty old-world (at least that of the first 3 quarters or so) and essentially pitch-black lighting. All that said, I don't think it's safe to assume that Evil Within 3 is why Mikami is attending, especially considering it's only been about a year and a half since 2 (especially considering three years almost to the day passed between Evil Within 1 and 2). There's another option that might be… even more exciting.
So about two years ago, Shinji Mikami was asked if he'd be interested in returning to direct a certain something with Capcom, his former employer. That something was Resident Evil 8, and Shinji Mikami replied: "I might". He was delighted with Resident Evil 7, and while he hasn't publically talked about it, I imagine that he has a positive opinion of REmake 2 as well. What if… well, I think he might have been a bit late on RE8 (typically Capcom seems to start work on the numbered sequels almost immediately after the release of the previous), but REmake 3, according to leaker DuskGolem, has been outsourced. What are the chances that it was outsourced to Tango Gameworks, Mikami's studio (and the one responsible for both Evil Within titles)? I'm not placing any bets on this one friends, but that is a very exciting proposition (although admittedly RE3 was the title Mikami had the least involvement with and even threatened to quit Capcom at the time do to his dislike of it's upgrade to 3). Of course there's also some fan speculation that he could be coming in to work on Dino Crisis, but I'd call that an even longer shot.
Outside of comments made by the producer of RE7 (who said he'd love it but Capcom was, at the time, definitively not working on it), a tweet made by Capcom R&D1 that they'd do it if enough people wanted it (yes, they said the same about REmake 3, but all signs point to that game being in production long before those comments). There is a leak that reports DC (along with a new Splinter Cell) will be revealed at Xbox's press conference on Sunday, but considering it also says that a new Splinter Cell game will be announced at the same conference (rather than at Ubisoft's, like… 17 hours later?) makes me skeptical. About the closest thing I'd point to in terms of anything that might really, actually suggest that Dino Crisis was even a little bit possible are just a handful of scraps. Dusk Golem mentioned that Capcom is working on a new RE Engine game that wasn't RE related, and RE7's producer (the same one that talked about Dino Crisis before) says they're working on an unannounced project that will make all of us say "wow, they're making that!?". Anything is possible, of course. We'll, of course, find out this coming Sunday, one way or another, so fingers crossed.
Also, dude could just be going to go. Shinji Mikami wants that Halo MCC on PC update LIVE son.
[Source]