Set Photos From the new DOOM Movie… Look Exactly Like the old DOOM Movie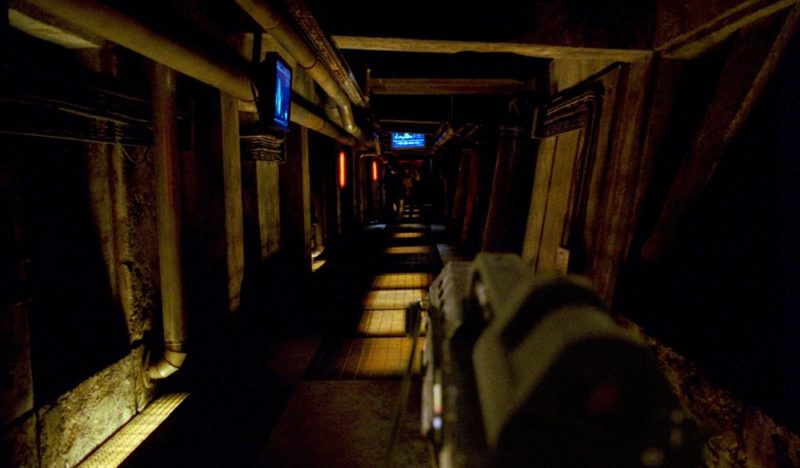 …Great.
One of the first things I'd thought when it was announced that we were getting a new feature film based on DOOM was how awesome it would be if it took inspiration from the colorful, badass, and explosive latest entry. Welp, we've got our first look at the new film and… it looks almost indistinguishable from the old DOOM film. Murky, dark, and so very very cheesy, the new DOOM film reeks of early 2000s edge and it's disheartening to an incredible degree. Now of course, this could be just these few rooms we're seeing here, and maybe special effects will enhance them… but boy, this is impressively bad looking. A few of the images almost look pulled from the very first Resident Evil movie, which sounds about right considering that the previous DOOM took more inspiration from that film (along with other late 90s early 2000s films like Cube and Pitch Dark) than the actual DOOM video games.
The images and footage come courtesy of star Nina Bergman, who previously was the one who announced the film was happening at all. She appears to be playing a space marine, and is part of a group of space marines (no green-clad DoomGuy? Again?). I want to stay positive for the film, and I'm hoping that maybe these just aren't representative of the final product, but my expectations are way, way lower than they were now.
That's it for the #DoomMovie adventure?I'm heading back to LA today?WOW what an experience it's been!Thank you to the one & only @tonygig & @UniversalEnt for the opportunity and all the most amazing cast & crew! With an injured shoulder on painkillers, it was still incredible✨ pic.twitter.com/SzvaSgSfuY

— Nina Bergman (@ninabergman) June 4, 2018
Happy Birthday to the one and only @tonygig director of demons, zombies & pain in butt actors?You deserve a trophy on this special day??? Love Nina?? pic.twitter.com/HmCTcTPRhW

— Nina Bergman (@ninabergman) June 4, 2018
Nina on set of the new #doommovie in #Bulgaria #Repost @ninabergman with @get_repost
・・・
Welcome to Doom?#DoomMovie @universalentertainment #behindthescenes pic.twitter.com/jgKP8QxfbL

— LettersFromTheFire (@LFTFmusic) May 24, 2018
Behind the scenes chasing monsters??? #doommovie #doomgirl #ninabergman #videogame #monsters #movie #filming #bulgaria #setlife #actress #badass #doom pic.twitter.com/jRefc8AO84

— Nina Bergman (@ninabergman) May 30, 2018
Waiting for the??? #DoomMovie #filming #onset #bulgaria #doom #movie #videogame #marines pic.twitter.com/VTtSePL0rg

— Nina Bergman (@ninabergman) May 30, 2018
My super powers are coming back??? #filming #doommovie #videogame #movie #doom #film #girlpower #marines #actress #setlife #bulgaria #ninabergman #bluehair pic.twitter.com/ehGSTRSaGm

— Nina Bergman (@ninabergman) May 29, 2018
At least she looks excited, and it looks like the filming part of production was loads of fun. At worst, hopefully, we can look forward to another dumb action film like the previous one. A far cry from Rip and Tear, but oh well.
[Source]