UPDATE: Resident Evil WTRC Trailer Releases Tomorrow, New Stills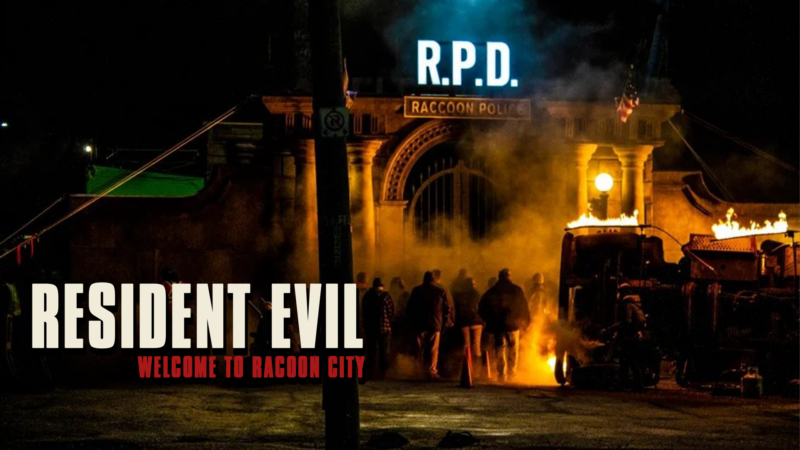 UPDATE: Along with the trailer announcement, two new stills from Resident Evil: Welcome to Raccoon City have been released, showcasing a new look at the titular sign (defaced with 'Fuck Umbrella' graffiti) and a shot of Leon and Claire looking over what must be a very mysterious file.
New images from Resident Evil: Welcome to Raccoon City.

The trailer arrives tomorrow. pic.twitter.com/VXrh6ierRk

— No Context Resident Evil (@ContextEvil) October 6, 2021
With just 50 days left until its release, the latest Resident Evil motion picture (titled Welcome to Raccoon City) is finally getting its first trailer tomorrow. Announced today via the film's official social media accounts, we finally get our first look at footage from the film. Very, very brief shots mind you, but footage nevertheless. Check it out:
🚨 24 hours until we get to Raccoon City… 🧟‍♂️🧟‍♀️#ResidentEvil: #WelcomeToRaccoonCity exclusively in movie theaters November 24. pic.twitter.com/Ry4bxuG6cR

— Resident Evil (@ResidentEvil) October 6, 2021
Showcasing our first look at zombie dogs (which, for such a simple creature, look shockingly like their in-game counterparts) and Lisa Trevor, this short teaser promises a creature feature for the real trailer itself. There's also a third character shown, but it's hard to tell if it's Lisa (without her flesh shawl), or another character. There aren't any whispy-haired characters in either Resident Evil 1 or 2 (unless this is meant to be Oswell Spencer, retconned into the stories), so it's anyone's guess. It's worth mentioning that we finally have an official logo as well, so I can finally retire the Spider-Man: Homecoming font I've been using until now (although I still had to make the logo for this article, since the one in the trailer is mega blurry).
This reveal follows up on an article I wrote the other day criticizing the new film's lack of marketing (and the lack of clear messaging about which project is which), so the only logical conclusion is that they're terrified of me and I forced their hand it's a weird coincidence but a very welcome one. I've been excited for this film since the first set photos started dropping late last year, which showcased surprisingly game-accurate versions of the R.P.D. building, Kendo's Gunshop, and even things like the tanker truck from Resident Evil 2's opening. I'll be there opening day, that's for sure.
Resident Evil: Welcome to Raccoon City releases November 24th, exclusively in theaters, and the trailer will be revealed tomorrow. Expect my usual fangirling over the trailer and spending like two hours going through it frame by frame like I've done for the last three Resident Evil games.