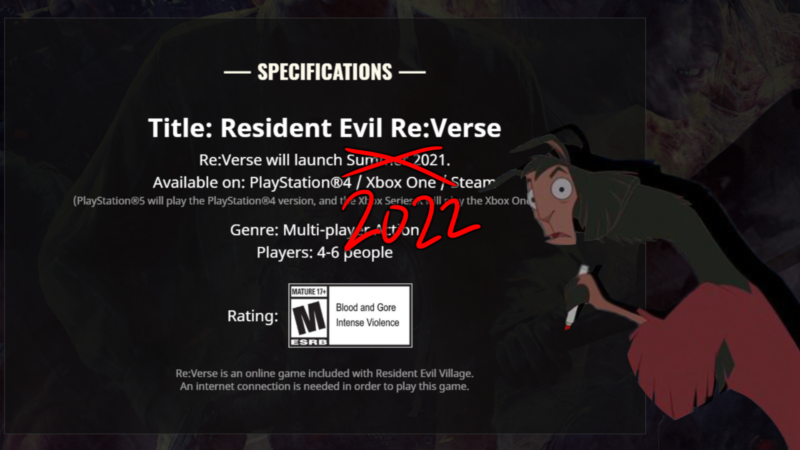 Despite last month's announcement that the upcoming multiplayer shooter, Resident Evil Re:Verse, would be releasing this month, Capcom have seen fit to delay it once again. Via social media, Capcom has revealed that Re:Verse will instead be releasing next year, with no fixed release date set at the moment.
The previously announced July 2021 launch of Resident Evil Re:Verse is being moved to 2022 so that the team can continue working to deliver a smooth gameplay experience. We will share updated launch details at a later time. Thank you for your patience and understanding. For players who purchased a physical version of Resident Evil Village, we recommend that you keep track of the included Resident Evil Re:Verse download code or add it to your account now so that you are ready to play when the game launches next year.
Re:Verse, a multiplayer FFA shooter that uses assets from previously released RE Engine games, was originally meant to launch along with Resident Evil Village back in May, but was quietly delayed immediately beforehand. Fans have speculated that it was either the game's quality (which was harshly criticized by fans) or the game's online stability (which was shakey and caused the game's public Beta to be extended multiple times), but now seeing the game get delayed into next year makes it appear that a full overhaul might be going on rather than minor tweaks.
At the moment, Re:Verse can still be downloaded via the key included in copies of Resident Evil: Village, although the game only boots up a start screen and a message about the servers being offline. The previous multiplayer title, Resident Evil Resistance, is still playable, however, with a surprisingly strong playerbase (on PS4 at least). RE Village will also be getting DLC next year, which may end up coinciding with Re: Verse (and may be the reason for its delay as well). We'll keep you updated as more information is released.