Resident Evil Reboot SPFX Makeup Artists Reveal The Headturner
As filming wraps on the new Resident Evil movie reboot, we've been treated to more and more amazing shots and plot details than you can shake a herb at. I, for one, have been losing it with hype with each new detail we've seen. From incredibly accurate sets and props to exciting story details they seem to going for a fairly faithful adaption of the first Resident Evil. From casting (that includes even minor characters like Richard Aiken) and creatures (that appears to include Lisa Trevor and Yawn) everything has been turning up so much better than I'd hoped. Today we got our first look at what might be the most exciting reveal yet, which I know might seem silly and small in comparrison.
The special makeup effects team behind the film, Applied Arts FX Studio (who have also worked on previous Resident Evil films and assorted horror films), showed off a special T-shirt that was given out to the production team upon completion, showcasing our first look at one of the new film's zombies — and unless our eyes deceive us, it appears to be an old friend.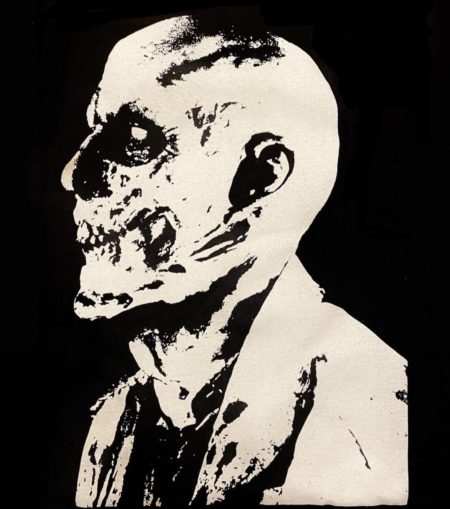 While the image is black and white, it most definitely appears to be the Headturner, the very first zombie seen in the Resident Evil franchise, devouring Kenneth Sullivan. Despite the Headturner being one of the most iconic images in the series (appearing or referenced multiple times throughout), it wasn't something the original films ever bothered with. Seeing the creature here, recreated seemingly based off of the Saturn/Director's Cut: Dual Shock artwork (as per the head gash) along with the more gristly and mummified look of the REmake version, is making me just so excited to see the finished product.
The new Resident Evil film is due out September 9th of next year, and we simply cannot wait to see the first trailer.