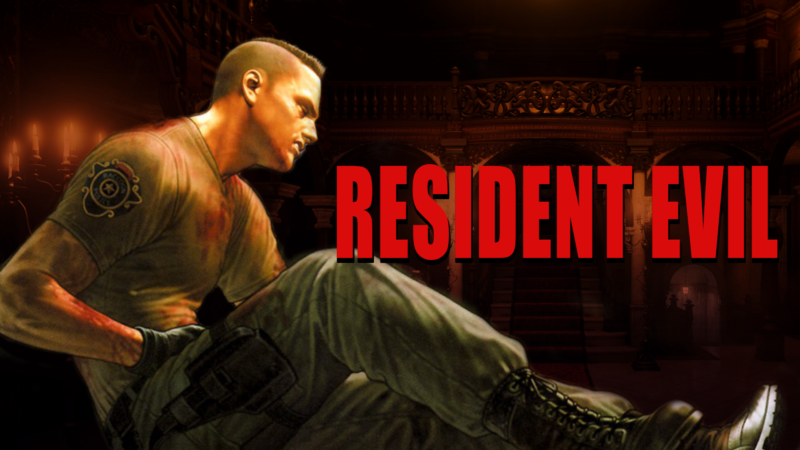 We've been following the Resident Evil film reboot since it was (basically) announced back in 2018, and we've very much been liking what we've been seeing. From 1:1 accurate set reproductions to a surprisingly large cast (including, thus far, nearly the entirety of Resident Evil 1 and 2's characters) and the reveal of a classic creature, I'm simply blown away by the effort being made here. Amongst that surprisingly large cast is Chad Rook, who has turned out to be playing Richard Aiken, the doomed S.T.A.R.S. member that you find bitten by Yawn in the first quarter of the original game.
Aiken is one of the few semi-fleshed-out Bravo Team members, falling just behind Rebecca Chambers in terms of screen time and dialogue, but I was still surprised to see him cast here (especially as no other members of Bravo Team have been revealed for the film, including Rebecca). Rook has been teasing his role in the film over on Twitter and Instagram for some time now, and recently he's cranked it up considerably.
In a recent Instagram story, Rook seemingly revealed that the film will be including multiple Resident Evil 1 creatures, and the list is kinda shockingly large. While the previous six films only ever managed to work in 7 creatures from the games (and that's counting zombies), this image seemingly suggests that three of the original game's (including REmake) creature gallery will be showing up.
Here's some cool Instagram teasers from @ChadRook, who will be playing Richard Aiken in the new #ResidentEvil Reboot Movie! #ResidentEvilMovie #residentevilreboot #REBHFun pic.twitter.com/RBJxrxgBrL

— BIOHAZARD Declassified (@BIOHAZARDcast) December 2, 2020
Along with this, Rook showed off his prop S.T.A.R.S. badge and nameplate, as well as a clapperboard used in the film with the digital readout set to show 'For The Fans'. He also announced that he'd wrapped his scenes for the film, as well as having finished shooting 'That Scene!'. Considering there are only two possibilities for 'that scene' regarding Richard, he's most likely referring to Richard's demise at the maw of either Neptune or Yawn, depending on the direction they go.
Outside of Rook's teases, we've also gotten looks at a Raccoon City Orphanage facade as well as what may be the shooting location for the Spencer Estate interiors, the Scottish Rite Club (which horror fans may recognize from other films like IT Chapter 2). I'm saying 'may', as we reached out to Residence of Evil (source for that announcement) but they were unable to get back to us with a source in time for this article.
''That's gotta be the Orphanage… Hang on Sherry!' -Claire Redfield

What appears to be the front entrance of the Raccoon City Orphanage on the set of the #ResidentEvil reboot film.

?: Unknown#residentevilmovie #residentevilreboot pic.twitter.com/3eX6G6COPK

— BIOHAZARD Declassified (@BIOHAZARDcast) December 5, 2020
Our First Look at the interior of the Spencer Mansion in the upcoming #ResidentEvil Movie Reboot! ???‍♂️

Filming for the movie recently took place at the Scottish Rite Club. #ResidentEvilMovie #ResidentEvilRevoot pic.twitter.com/YT1Z2nbOup

— RESIDENCE of EVIL (@ROEnetwork) December 1, 2020
We continue to remain ecstatic for this film, and hope we get a chance to see footage sooner rather than later. It's still currently slated for release next year, although obviously, things are still subject to change due to the continued proliferation of Covid. We'll keep you updated.