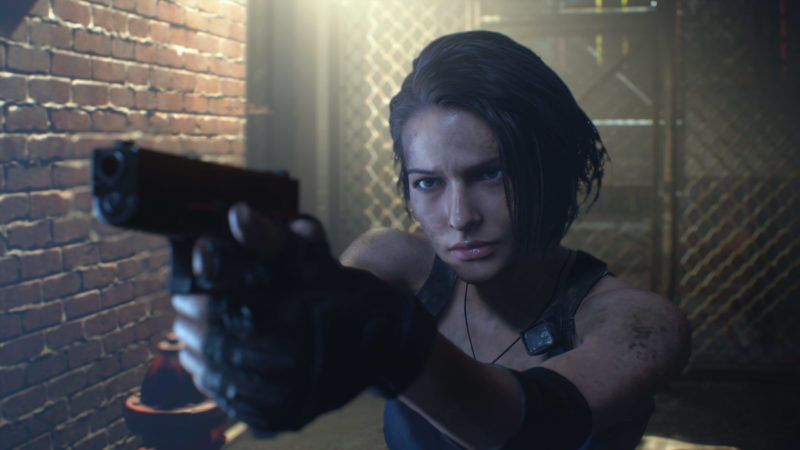 For everyone waiting to jump into Jill Valentine's reimagined Raccoon City from Resident Evil 3 Remake, Capcom has answered your prayers. They've confirmed that the playable demo for Resident Evil 3 Remake will be available later this week, on March 19th, 2020, on Xbox One, PlayStation 4, and PC via Steam.
Capcom shared that this demo will also contain a brand new cinematic trailer with previously unseen footage that players will get to see after completing the demo. The demo will technically be available first on Xbox One, which drops at 12am ET on March 19th, while the PS4 and Steam demos go up at 1PM ET on the same day, about 13 hours later.
As a new surprise, they showed that the demo also features a mini scavenger hunt for Resident Evil 3 Remake's equivalent of Mr. Raccoon statues, called Mr. Charlie statues. The demo will feature 20 of these statues with an active counter on screen as you collect them, and you'll have to hunt them down with Nemesis hot on your tail.
At the end of the demo, there is a completion screen that will show your final count. Is anyone else thinking what I'm thinking? That there might be some kind of bonus that transfers into the final game, similar to the Resident Evil 7 demo's Dirty Coin? How cool would that be?
Along with all the other cool news, this new demo is also confirmed to be playable for an unlimited time, so you can spend as much time in Raccoon City as you like, unlike the Resident Evil 2 One-Shot demo from last year.
In addition to the demo news, Capcom also shared that an open beta for Resident Evil 3 Remake's asymmetrical multiplayer component, Resident Evil: Resistance, will begin on March 27th, about one week before the full game is released. This beta will also feature playable Mastermind Daniel Fabron, who was the first Mastermind revealed when the game was announced back in September.
The beta officially starts at 3am ET on March 27th for Xbox One and PS4, and goes live on Steam at 1PM the same day. This beta will run until April 3rd, when the full game launches.
You can watch the new trailer and view some new screenshots below, and get your platform of choice ready to explore the new Raccoon City later this week!