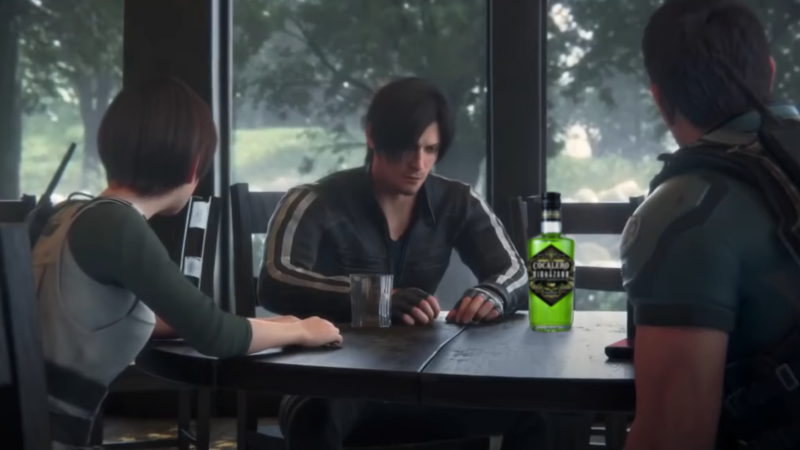 Just over a month is left before the much-anticipated release of Resident Evil: Infinite Darkness, an all-new animated Netflix series set between Resident Evil 4 and 5. While there's an already announced manga tie-in coming at some point (we haven't had an update on it since its announcement last year), fans have been waiting on some real merch to buy up based on the series. Well, we're finally getting some, with a just-announced suite of hats and coin purses! The hats range from simply sporting the Resident Evil (well, BioHazard): Infinite Darkness logo, to the Mad Dogs unit insignia (the special unit Jason belongs to in the series). The coin purses are also super charming (excuse me, 'smart key case'), with a number of designs on them including Leon's Deagle and the Alien Coffee Motel logo.
Along with these is… a licensed bottle of Resident Evil branded booze. The Cocalero x Biohazard is a limited edition bottle of a 'herbal spirit made with the South American coca leaf and 16 other botanicals including guarana, juniper and ginseng' according to The Whiskey Exchange. Sounds tasty!
As fun as this is, I do find it a little uncomfortable that Resident Evil is tying in with an alcohol brand, especially as two of the main characters have been depicted as becoming depressed alcoholics (Chris in RE6 and especially Leon in Vendetta), one of which is the poster boy for this very series. Call me whatever you want, but it is very weird to see Leon, who spirals into depression and alcoholism a little over 10 years after the events of this show, being part of a real-world marketing campaign for alcohol.
Regardless, Infinite Darkness hits Netflix July 8th, and will be followed by the live-action Resident Evil: Welcome to Raccoon City this fall.
[Source 1]
[Source 2]