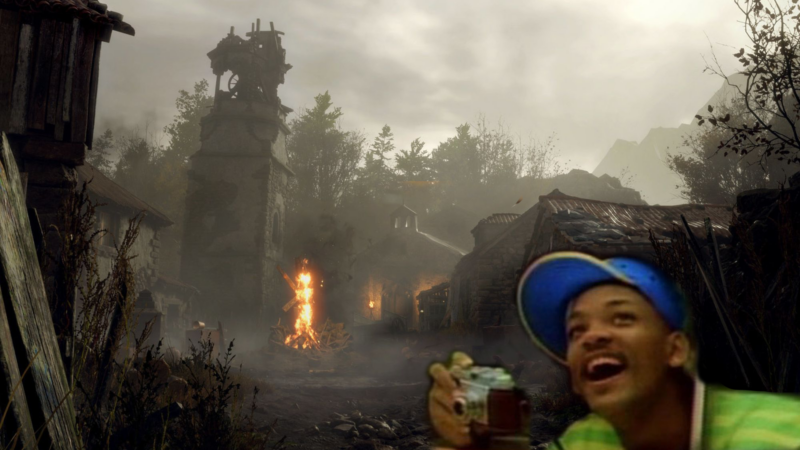 Following up on some great gameplay footage, the reveal of a new enemy, and a bunch of great details regarding the upcoming Resident Evil 4 Remake, Game Informer has pressed on with their coverage! In what they called a "rapid-fire interview", Producer Yoshiaki Hirabayashi and Director Yasuhiro Ampo give both real and joke answers to a series of real and joke questions, and the results are fascinating:
Obviously, you should check out the whole interview, Hirabayashi and Ampo are both incredibly charming and legitimately funny in their joke answers, but we've gone ahead and transcribed a few of the most important ones here:
Game Informer: Will it have a persistent Enemy like Mr. X or Lady Dimitrescu?
Ampo: Enemies that follow you around… I'm pretty sure there isn't one.

Hirabayashi: Maybe there is? But we will not tell you today.
Game Informer: Is the village bigger than before?
Ampo: Yes. It is bigger. The area you can explore is larger than before.
Game Informer: Are there still QTEs?
Hirabayashi: Almost none
This one is interesting, as it contradicts a previous interview where Game Informer implied that QTEs were replaced entirely, but they might have only been talking about Krauser's fight(s) specifically. Now QTEs don't necessarily mean the original's "HIT L+R!!!" things, but could simply mean the "tapping X to get out of a grapple" that we've already seen, or something akin to Resident Evil 3 Remake's brief "Hold L Stick up" towards the very end of the game. "Almost none" is still pretty close to none, so I don't expect it to get too crazy either way.
Game Informer: Do snakes still drop chicken eggs this time?
Ampo: This time, you get snake meat.
This answer is extremely interesting, given the cooking mechanic we saw previously in Resident Evil Village, and how it was used to upgrade stats. The original Resident Evil 4 had Yellow Herbs to upgrade Leon and Ashley's health bar, but perhaps that's being replaced by a new cooking mechanic along the same vein as Village. Hopefully, the more open village area can lead to a more complex hunting element, which honestly sounds like a lot of fun.
Game Informer: Will the Hook Man make an appearance in this game?
Hirabayashi: No. There is no Hook Man.
Truly tragic, but understandable. For the unfamiliar, an early version of Resident Evil 4 (referred to as Resident Evil 3.5 by fans) featured a hallucination element that saw Leon fighting off a spectral figure wielding a large hook as a weapon. The creature has become somewhat beloved by fans over the years for how genuinely chilling the footage we have appears, and while elements of RE3.5 have made it into released titles (such as the haunted dolls in Village), it looks like the Hooked Man's day to shine isn't here yet, if ever.
Game Informer: Have either of you completed a knife-only run?
Ampo: I don't think it's possible since at least in some areas, you need to use specific weapons.

Hirabayashi: But an almost-knife run is possible?

Ampo: An almost-knife run is doable.
They're most likely referring to using the infrared scope on Regenerators later in the game. You could kill them using only the knife in the original game, but things might've changed since. There's also room for more to have changed, so who knows. Maybe we'll get another insane laser gun like the ending of Resident Evil 3 Remake.
Game Informer: Will this game also come with a novelty Chainsaw Controller?

Hirabayashi: We wanted to do one, but we were already putting everything into development of the game. Maybe we can look into that some other time if there's a future opportunity.
Game Informer: Why did you guys kill the dog?
Ampo: I mean, unless someone does a DNA check, nobody knows whether that dog is the one you guys are talking about.
I've been saying for weeks that the dog shown in early gameplay footage is not "that dog", and every time it's brought up, Capcom seems to re-confirm my suspicions.
Game Informer: Is Mike the helicopter pilot gonna have a story arc this time?
Ampo: Maybe not an arc itself, but I believe he has a few more apperances.
Game Informer: Is there a photo mode? 
Ampo: Yes.
Yesssss
That's all the big ones (in my opinion), but the rest of the interview is absolutely worth checking out. It's also interesting to note that a few questions were apparently cut as Hirabayashi and Ampo gave too much away and had to request the answers be removed.
We'll keep you up to date on Resident Evil 4 Remake information as the window for release closes in ever tighter!