RE2 Remake: Collector's Edition, New look at Claire Revealed at SDCC
UPDATE: Capcom's RE community manager, @ImKatastrophe has confirmed that there is a different EU Collector's Edition that will be announced next month. This falls in line with most of the previous RE games, which had different collector's editions for different regions. Odds are pretty good Japan will receive its own as well. We'll keep you posted.
OH BABY THIS IS THE SORT OF THING I'VE BEEN WAITING FOR. At Capcom's Resident Evil 2 Remake panel at San Diego Comic Con this year they revealed the GameStop exclusive RE2 Remake Collector's Edition, and it looks amazing. Retailing for $199.99, the collector's edition includes:
Resident Evil 2 Deluxe Edition

Full Game
Special Deluxe Packaging
Extra DLC Pack Card

Leon S. Kennedy (R.P.D. Version) Figure

An expertly-crafted 12-inch figure of Leon on his first day in his new RPD police uniform, re-created to mirror his in-game design down to the smallest details. A must-have for any Resident Evil fan or collector!

"Ben's File" Art Book

A 32-page book left behind by Ben Bertolucci, a freelance journalist who makes an appearance in Resident Evil 2. This file contains photos and files documenting events after the Raccoon City tragedy, and was filed away as a highly confidential document by the U.S. government. It's never been seen by the public… until now.

Digital Soundtrack

A voucher code for a 25-track album featuring new songs from the remake of Resident Evil 2, as well as a selection of arrangements from the original game.

"R.P.D." Renovation Design Poster

A diagram reminiscent of blueprints, this poster illustrates how the building was renovated and transformed from a museum to a police facility when work was being done on the building in 1969.
This is exactly what I was hoping for out of a collector's edition, the art book and figure especially. While RE7's US Collector's Edition was pretty great (namely for the Finger replica/USB stick), this looks simply spectacular. The packaging is also rad, designed to look like the item storage box used in gameplay. I'm a huge sucker for replica stuff so the renovation poster sounds rad, and having a copy of the new soundtrack right out of the gate is a treat (with a few OG tracks as well… not that I don't already have that). Of course the main draw here is the Leon statue, which looks simply gorgeous with a special base and swap-able items. It's a shame it's just Leon and no Claire, but I imagine Leon is both the bigger star, and has a more complex, statue-worthy outfit (Remake Claire is just in a red jacket and jeans after all). The spin of the art book doubling as a replica of Ben Bertoluci's notebook is a great idea, too. Hopefully there will be fun lore stuff in there as well as art, like his files on Chief Irons' collusion with Umbrella. The collector's edition of course comes with all the deluxe edition content as well, which was a number of in-game costumes (most notably an Elza Walker outfit for Claire), the ability to swap the score for the original 1998 soundtrack in game, and Wesker's Samurai Edge handgun from the start.
You can preorder it here for Xbox One and here for PS4.
On top of all this, there's a new piece of official art showing off Claire's new look, atop her massive Harley (officially licensed apparently). This is the best look we've had at the back of Claire's new jacket, and low and behold… her goddess is there, embossed rather than embroidered. It makes me so happy to see that it wasn't forgotten. I also see that she's packin' some heat, what looks like a revolver. Huge step up from the small, low capacity handgun she fishes out of the glovebox of the police cruiser Leon stole. I assume this is to make up for her no longer having the knife on her vest, although this could also all just be something she gets later in the game. It's also a cute note that her bike's plate reads "J2198″… RE2 classic's original release date. Capcom also issued a brief statement on why her look changed so drastically compared to Leon (he's pretty overhauled as well, but the gist of his original outfit is more intact), saying:
The team had quite a bit of discussion on how to design her new look, and how much of it should retain her appearance from the original PlayStation Resident Evil 2. Ultimately, the team decided on an appearance that would line up with the iconic scene of Claire entering Raccoon City on her motorcycle. The team is extremely happy with her final design, and hope you all enjoy it as well!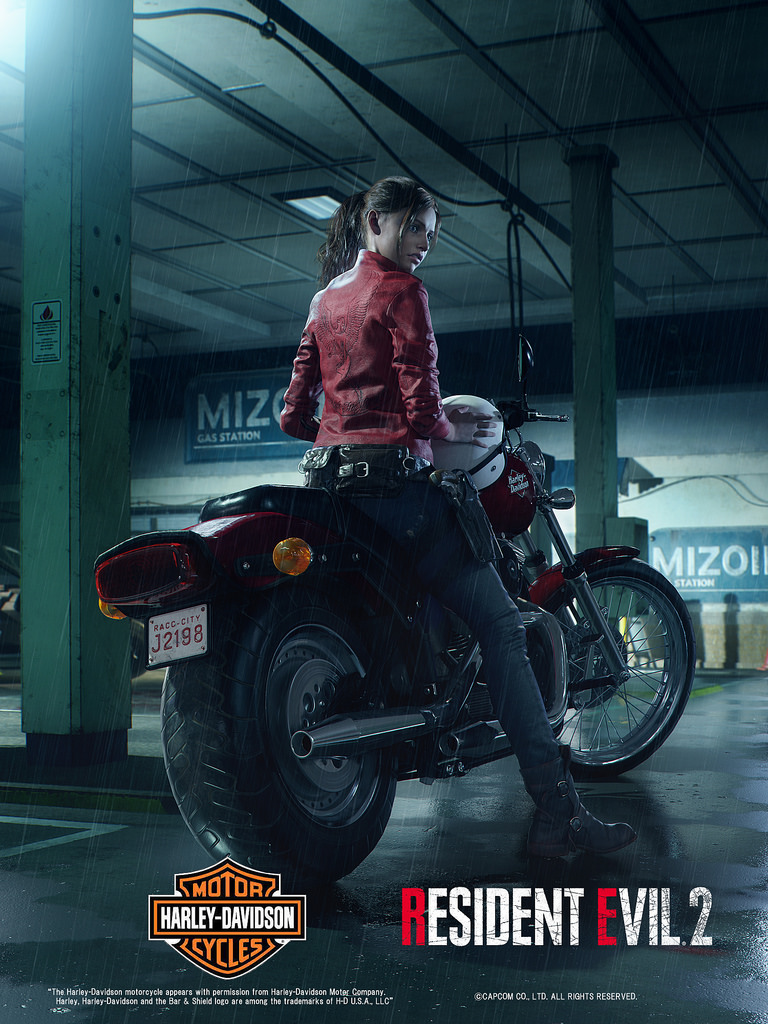 I can't tell you the levels of hype this makes me. RE2 Remake, along with the collector's edition here, releases January 25th next year. Preorder this as soon as it becomes available, because the RE7 one sold out super fast!
[Source]