PS Store Updates Resident Evil 8: Village Page With PS5 Features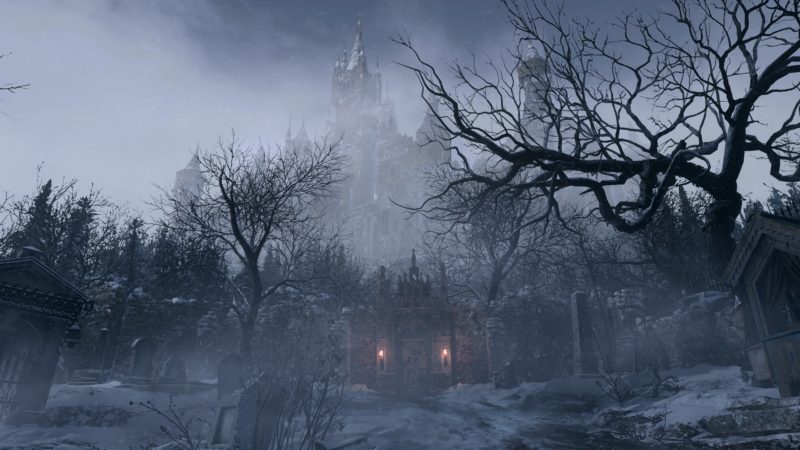 As we move on from Halloween and the temperature begins to dive, I'm back to wondering when exactly we'll see the next update regarding Resident Evil 8: Village. Our last media event that the game appeared at was TGS, which (without trying to sound unprofessional) was a bit of a bust. While it isn't an update exactly, we do finally have… some information that's objectively new about the upcoming title. The PlayStation Store has just updated its page on Resident Evil 8, specifically including a list of PlayStation 5 specific features. They aren't anything we shouldn't expect, as they all involve things that the PS5 will be able to do with any games releasing for it, but still, it is new information — and that could be important as I'll explain in a bit.
Stunning visuals: Explore Resident Evil Village's beautiful yet terrifying vistas and locales in 4K with Ray Tracing.
Fast loading: Instantly pick up right where you left off with almost no load times, thanks to the power of the PS5 console's ultra-high speed SSD.
Adaptive triggers: Feel the weight and pull of weapon triggers for an even more immersive experience.
Haptic feedback: Simulate the feeling of firing a real gun with haptic feedback.
Tempest 3D AudioTech on compatible headphones: Surround yourself with the carefully crafted music and sounds of survival horror in Resident Evil Village. 3D Audio enhances the experience by making you feel the hair-raising sounds coming from every direction.
Again, these aren't unexpected. The main draw here is just that the update happened at all. After the last major update at TGS, the Resident Evil 8 website has since stated that the next update will be coming 'winter'. On the one hand, I understand why they chose to be so vague; Capcom missed the previous, more specific window of August. That said 'winter' is pretty startlingly vague, as that covers pretty much anywhere between December and March. However, this list of features appearing on the PlayStation store might indicate that they're gearing up for more soon. Our friend Jawmuncher over on Twitter suspects that preorders might be opening up soon, which might be a possibility — although that would, in theory, force a release date to come either with it or soon after.
It's also possible that this is in preparation for some sort of upcoming event, like next month's Game Awards, which might have a release date announcement for Resident Evil 8. There's every chance that the PlayStation 5 could even get an exclusive demo to hype up post-launch as well, but that's just me throwing darts (and absolutely the least likely possibility). Of course, the other major possibility is that… none of this means anything and they just updated the website because the game has these features locked in now.
I wish there was more I could leave this off on besides the usual "we can only wait and see", but that really is all we've got at this point. Fingers crossed we'll at least get something at the Game Awards at the very least.