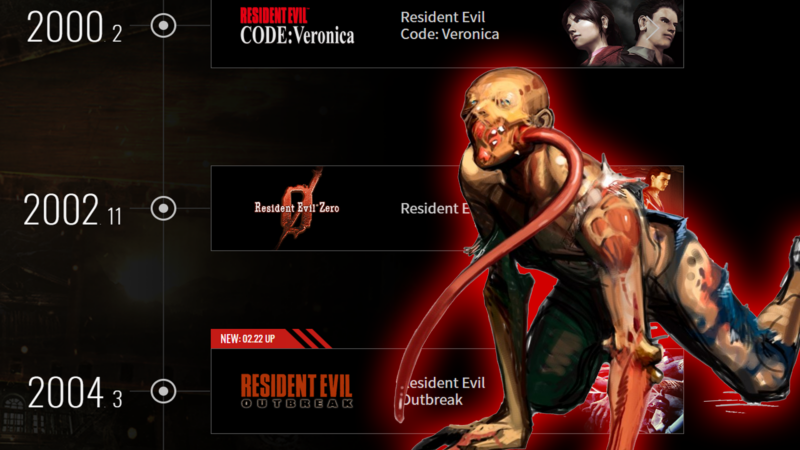 So if you've been following along with Resident Evil's various social media accounts, you've probably already heard about the recent update to the Resident Evil Portal website, which includes a new 'series history'. Rather than simply laying out the plot of the series in order, it's actually following them as per release windows along with story introductions, with the first update including Resident Evil 0, 1, 2, and 3. Interestingly, it actually included the original RE1-3 (1996-1999), rather than their remakes (which is an exciting sign for fans pleading for a classic collection). Today, Capcom has updated the RE Portal website once again, now to include fan favorites Code: Veronica and both Outbreak titles.
Along with the typical plot outlines, the website also includes a bevy of all-new HD scans of concept art, many of which have never been seen before (and apparently including minor touch-ups beyond just upscaling the imagery)! As a huge fan of behind the scenes content, the new artwork is an absolute treasure to behold, including looks at scrapped creatures such as additional halfway-mutations between zombies and Lickers (rather than just the Suspended mini-boss from Outbreak) and even zombie rats, something the series still hasn't explored in the games (with the only canon appearance coming from a brief sequence in 2021's Resident Evil: Infinite Darkness).
There's plenty to explore in this new update, and another update is coming in just a few days on the first of next month. I can't wait to see what new concept art they reveal for Resident Evil 4, and I'm extra curious to see if titles like Survivor, Gaiden, and Dead Aim make the cut for this timeline. Considering we already skipped ahead to the Outbreak games, I'm gonna say probably not, but fingers crossed. Gaiden especially has very little in the way of behind-the-scenes content, and especially with the fan remake in production, a look at concept art might be a big help to that game's developer. You can visit the Portal website here, although it requires a log-in, or you can see the art itself over on Twitter.