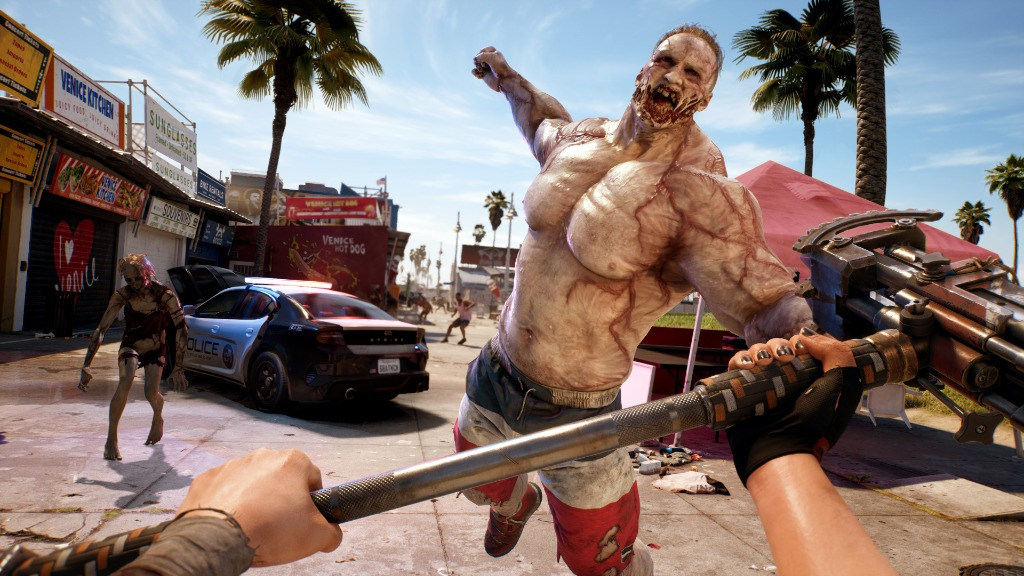 Developer Dambuster Studios has been hard at work on its titular open-world zombie shooter Dead Island 2. The game has been in development for the better part of a decade and has suffered several delays, leaving gamers in doubt about the game's release and its overall quality. In the latest Dead Island 2 trailer, Dambuster showed off an extended section of action-packed gameplay featuring an Irish punk rocker Dani, a "foul-mouthed brawler from Ireland with a twisted sense of humor," one of the game's six playable 'slayers.'
The trailer shows off various gorgeously-designed locations, the F.L.E.S.H. system in all its gory dismemberment glory, along with a diversified range of weaponry. In addition, there is a card-based perk system (replacing the talent tree from older Dead Islands) and an in-game sidequest that will leave you feeling…hungry. Playing as Dani, the showcase takes you through the sunny streets of Los Angeles as the player looks for the Halperin Hotel evacuation point. Dani spews some cheesy quips along the way.
All melee weapons and firearms can be retrofitted with DIY mods to create eccentric and outlandish upgrades. My personal favorite? The katana with the propane nozzle is ready to slice and dice and set the undead on fire. Add on the corrupted DNA powers (for example, Dani's "fury mode" ability to grow claws and toss zombies across the room like ragdolls) and environmental props, and one can look forward to approaching combat challenges with their chosen style of finesse. Players can also enjoy multiple routes and optional side quests between gameplay objectives. Dambuster has promised "dozens" of zombie types that can be killed using a variety of different weapons and skill perks.
The end of the trailer shows off the "Apex Zombies," further mutated zombies that have their own unique behaviors, like a fat vomiting monster reminiscent of Left For Dead 2, a massive bridezilla monster, and a burnt monster wearing chains. All of this will hopefully prove to be a success for a game that has been stuck in good ol' development hell for a near decade.
Dead Island 2 releases for Xbox One, Xbox Series X|S, PlayStation 4, PlayStation5, and PC via the Epic Games Store on April 21st. You can pre-order the game here.
You can see the satisfying and bloody action for yourself in the extended gameplay trailer below.