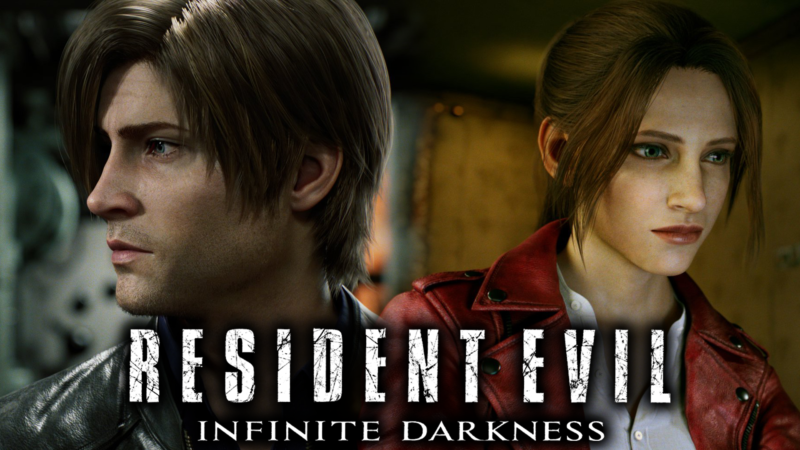 Alright, yeah, these are lookin' pretty good! While I'd been somewhat underwhelmed by the reveal teaser for next year's animated series Resident Evil: Infinite Darkness, which arguably looked a bit rough around the edges, I'm feeling a little more confident now. Starring Leon Kennedy and Claire Redfield, and set in the Resident Evil canon (as opposed to whatever is going on with the live-action Netflix show), Resident Evil: Infinite Darkness doesn't have a whole lot of information out there yet. Aside from the aforementioned teaser (which was meant to drop during TGS but regrettably leaked beforehand) and some production artwork, we still don't really have anything to go off of. Today we finally got two new stills from the upcoming series, showcasing Leon and Claire in all their glory.
When biohazards run wild, only a pair of veteran zombie slayers can get the job done. Resident Evil: Infinite Darkness is a new original series set in the canon of @CapcomUSA_'s classic survival horror franchise @RE_Games, coming next year. pic.twitter.com/nuBKVgXuzp

— NX (@NXOnNetflix) October 27, 2020
It'll be interesting to see exactly how this lines up with the story of the games, or rather if it does at all. Being the fourth (technically fifth but nobody really talks about it) animated Resident Evil thing, it stands to reason that it will follow suit with the previous films. That is to say, it will not only not have anything to do with the games but it won't affect them at all either. The plots of Resident Evils Degeneration, Damnation, and Vendetta didn't make any impact on the story of the games whatsoever (despite the ridiculous scale of the events of Vendetta, in particular), nor are they even referenced. I find it unlikely that Infinite Darkness will shake that trend, but you never know.
Once again, Resident Evil: Infinite Darkness is due out sometime next year, exclusively on Netflix.