Fresh off his involvement in the upcoming fan film, The Keeper's Diary: A Biohazard Story, Charlie Kraslavsky, the live-action actor for Chris Redfield in the original Resident Evil (1996), just announced via Twitter that he will be providing a cameo for Daymare: 1994 Sandcastle, the prequel to Daymare: 1998.
Kraslavsky says this will be his first video game appearance in twenty-seven years.
You can view his full Twitter post below.
I am excited to announce, that for the first time in 27 years, I am appearing in a video game! A huge thank you to Michele Giannone and the team at Invader Studios, who gave me a cameo in their upcoming release of Daymare: 1994 Sandcastle!!I love you guys❤️ pic.twitter.com/c09uVZrtHV

— ckraslavsky (@ckraslavsky) June 29, 2023
The original Daymare: 1998 is a third-person survival horror game developed by Invader Studios that pays homage to the iconic genre classics from the '90s and features a story involving an incident that turns a small town into a deadly zone.
Daymare: 1994 Sandcastle is a prequel where players step into the shoes of agent Dalila Reyes, a former government spy now in the service of the H.A.D.E.S. unit, who must prepare to face true horror and enter the most advanced experimental research center in the United States of America.
Main Features:
New characters and big comebacks – Take part in the top secret "Sandcastle" mission as the game's main protagonist, Special Agent H.A.D.E.S. Dalila Reyes, and reconstruct the past of some of Daymare: 1998's most beloved characters

Lethal and terrifying enemies – Fight, kill and dismember the new enemies that stand between you and the resolution of your mission, so frighteningly intelligent, aggressive, and realistic in every detail.

Revamped interface – The D.I.D. is back, though in a completely redesigned way. Manage your inventory, ammo, and health items directly from the new game interface, which has never been so simple and intuitive.

Eye to the Scanner – Thanks to the innovative device installed on Reyes's arm, you can analyze portions of the environment and reveal new puzzles to solve, pick up secret documents and detect hidden items!

Environmental puzzles – The solution is often right in front of your eyes! Search for all the clues and overcome the environmental obstacles to obtain resources and collectibles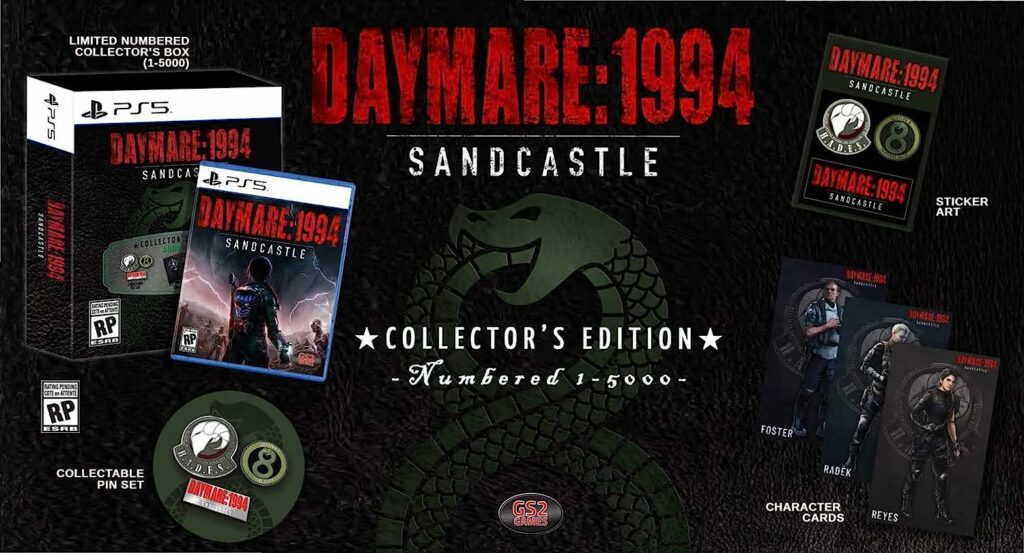 In addition to the standard release of the game, there will also be two different physical collector's editions. The first version, available through Amazon, Gamestop, Best Buy, Walmart, Target, and other US retailers, is a numbered Collector's Edition for PS5, PS4, Xbox Series X|S, and Xbox One, priced at $49.99, which includes the following:
Base game with a limited numbered collector's box
Collectable Pin Set
Character Cards
Sticker Set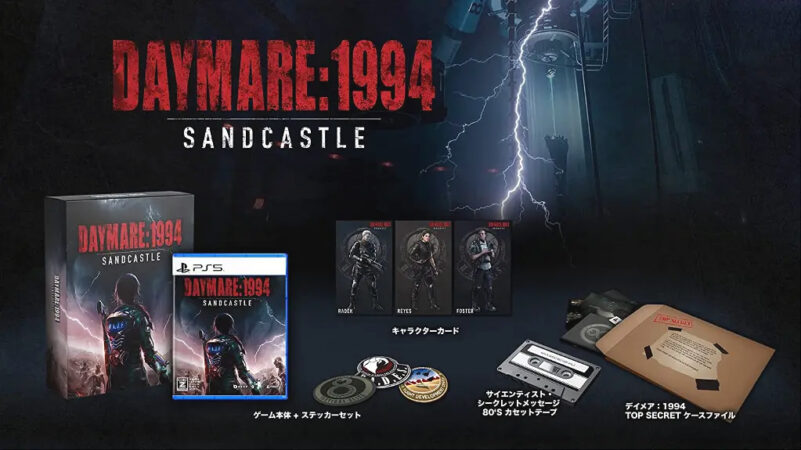 The second version is a Limited Edition for PS5 available through Playasia for $62.99 and features the following extras:
Base game with special cover art collector's box
Character Cards
Sticker Set
Daymare: 1994 TOP SECRET Case File, which includes a lab report from the facility, a QR code with a message from an anonymous person, evidence photo printout, HADES original notebook, and a Polaroid photo
Scientist Secret Message 80's Cassette Tape, which includes hints for finding weapon skins hidden in the game
There's been no official word on who Kraslavsky will play in the upcoming game, but we won't have to wait long to find out.
The demo for Daymare: 1994 Sandcastle is available now, and the full game will release on August 30, 2023, for PlayStation 5, PlayStation 4, Xbox Series X|S, Xbox One, and PC via Steam and GOG.
You can watch the latest trailer for Daymare: 1994 Sandcastle from last month's Future Games Show below.