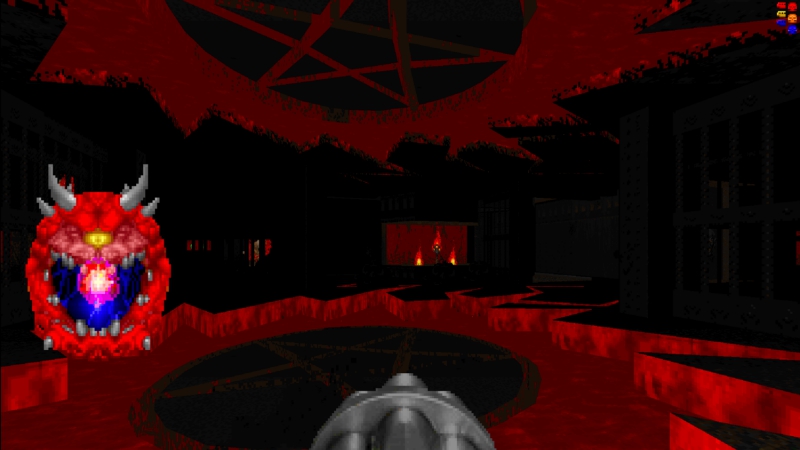 Few games can claim the same clout and influence as 1993's DOOM. While Id Software's Wolfenstien 3D is the go-to example of the original FPS, DOOM popularized the genre thanks to its episodic format which took advantage of shareware technology at the time. Yet even 25 years later, and with DOOM: Eternal on the horizon, new content is still being made for the original DOOM, mostly by a dedicated modding community. However, one of the game's original creators recently unveiled something special in honor of the games big anniversary.
John Romero, one of DOOM's original designers, has revealed a new episode is coming to the 1993 classic. Titled Sigil, this fourth episode is expected to arrive this February, and will be a free megawad available to anyone with a registered copy of DOOM. The megawad itself contains nine levels, with single player and deathmatch variations on each.
As described on Romero's website, the conceit of Sigil even fits nicely into the established lore.
After killing the Spiderdemon at the end of E4M8 (Unto the Cruel), your next stop is Earth — you must save it from hellspawn that is causing unimaginable carnage. But Baphomet glitched the final teleporter with his hidden sigil whose eldritch power brings you to even darker shores of Hell. You fight through this stygian pocket of evil to confront the ultimate harbingers of Satan, then finally return to become Earth's savior.
Yep, that certainly sounds like DOOM alright.
In addition to the free episode, Sigil is also getting two physical special editions in the tradition of 90's PC big box games. Sold courtesy of Limited Run Games, Sigil's Beast Box and Standard Editions come with all kinds of goodies for a variety of price points.
For $39.99 the Standard Box gets you a sweet demonic box featuring illustrations by heavy metal artist Christopher Lovell, a floppy disk-themed USB drive, some stickers, and a 2-disc jewel case with a copy of the WAD and a soundtrack by Buckethead. For the hardcore fans, the $166 Beast Box includes all the previously mentioned swag, plus a pewter bust of John Romero's head, A signed art print, a Sigil T-shirt, and a coin.
It's all very cool, and an interesting way for one of DOOM's original creators to continue the original game's legacy, even as Id Software looks to the future with DOOM: Eternal. As a massive fan of the original, I'm excited to see what madness John Romero can still conjure up.
For more information on Sigil, you can check out Romero's website right here. DOOM: Eternal is expected to release sometime in 2019; you can check out the game's initial Quakecon reveal right here.