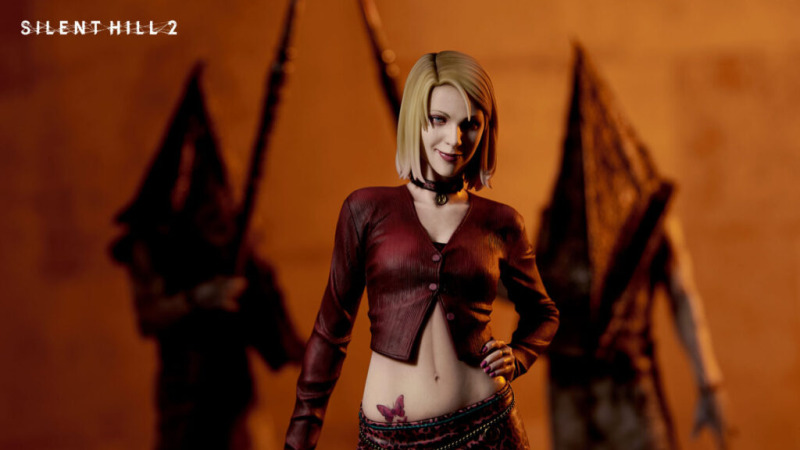 Silent Hill is a franchise renowned for its excellent character designs. Whilst this usually refers to the series' array of monsters, from the terrifying executioner Pyramid Head to the bizarre Incubus, the designs of the humans that populate Silent Hill's lonely streets are just as stellar. Characters like Lisa Garland, James Sunderland, Heather Mason and Walter Sullivan are iconic in their own right.
It's no wonder, then, that Silent Hill has made for some amazing scale statues; notably from Gecco Corporation, who at last year's Silent Hill Transmission announced a suite of new Silent Hill 2 statues.
Now, a 1/6 scale statue of Maria is available for pre-order on Gecco's site. It depicts SH2's deuteragonist standing in what appears to be Rosewater Park, where she first met James Sunderland. Maria adopts a similar pose to that of her introductory cutscene, and is holding the revolver used in the 'Born From a Wish' campaign. The statue costs 42,000¥, roughly equivalent to $288, or €266. It will release sometime between February – March 2024, but according to Konami's Sweet Factory Silent Hill store, pre-orders are due in November. Fans who want Maria for their collection have around two months to decide, then.
However, if you happen to miss out, worry not; Gecco Corp. release Silent Hill stautes on someting of a regular basis and with Silent Hill 2's remake on the horizon, more Maria merchandise is a foregone conclusion.
Until then, and the relese of Maria's 1/6 scale statue, stick with Rely On Horror for more Silent Hill news!