Friday the 13th's Virtual Cabin 2.0 is Coming Soon; Is 'Jason Goes to Hell' Inspiring New Paranoia Mode? (Update)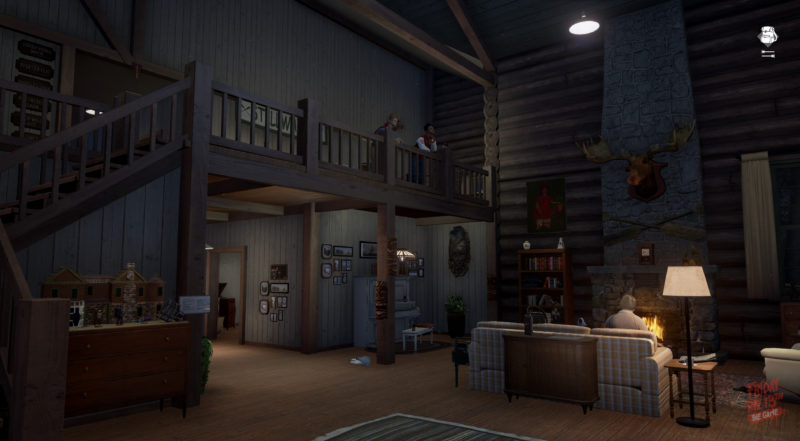 The previously PC and Kickstarter-backer exclusive "digital museum" for Friday the 13th: The Game will soon be available to all in an expanded re-release.
The Virtual Cabin 2.0 is a piece of standalone content honoring the legacy of the Friday the 13th series and features behind the scenes content for Friday the 13th: The Game. The updated version coming to PC and consoles appears to heavy on the meta-game, supposedly hiding unlockable secrets. The first version was notoriously difficult to decipher, and the team is saying 2.0 will be even more challenging. The content is set to release with the next game update sometime soon.
Among the handful of images released alongside the Virtual Cabin 2.0 announcement comes some new — and interesting — references. Bloody Disgusting's  John Squires noticed that one of the images (see above) may possibly reveal that content based on Jason Goes to Hell may be on the horizon. Goody! If so, perhaps the recently announced Paranoia mode, if it's to play anything like G-Mod's Trouble in Terrorist Town, will be based on Jason's ability to posses people in Jason Goes to Hell. This means … a secret Jason gametype based on deception! Oh snap.
Check out more details on the F13 website and see the new screenshots below.
Update: Today Friday the 13th Part III's Shelly has been announced as a new counselor arriving with the next game update on Monday, December 18th! Check out the reveal video below. Additionally, they've also announced several new features arriving Monday, including offline bots, a level cap increase, and the start of Holiday events. More details are available here. The free content update will launch a little later than Monday for the Xbox One version of the game.
Shelly Finkelstein will be coming back to Camp Crystal Lake to troll his fellow counselors…that is until Jason shows up! Get Shelly for free with the latest patch!

The latest update will be coming for PS4 and Steam on Monday, Dec. 18th with the Xbox One patch to follow shortly pic.twitter.com/ac7CaCmUYD

— Friday The 13th Game (@Friday13thGame) December 15, 2017
[Source]
67771
true
false
true
false
true
true
false
auto
false
ease-in-out
300
false
0
true
false
%curr% of %total%