DOOM Eternal DLC: :The Ancient Gods Part One" Teaser Drops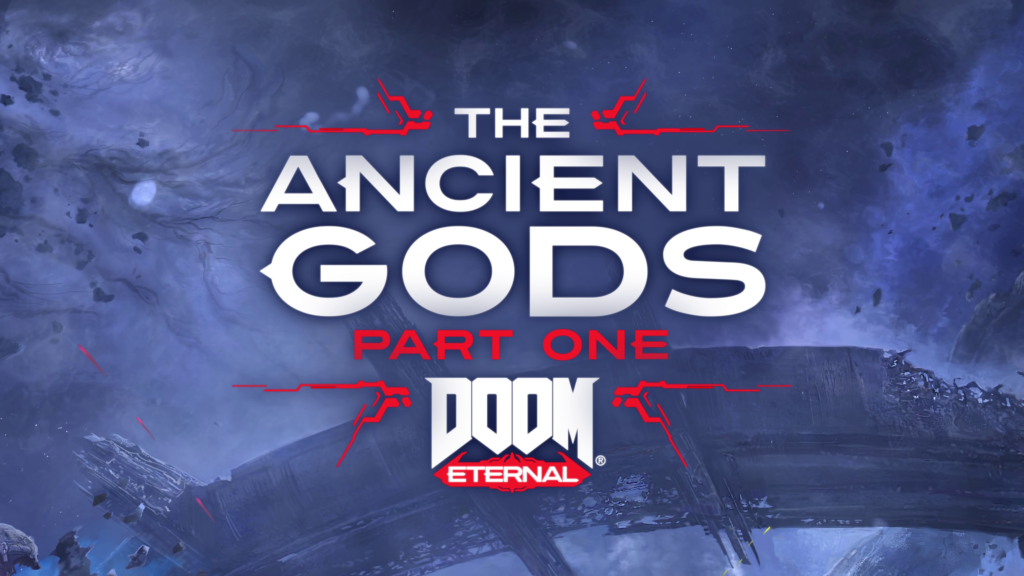 At this year's QuakeCon, Bethesda showed off the first teaser trailer for The Ancient Gods, Part One, the first story DLC for their massive FPS hit DOOM Eternal, which released earlier this year. Judging from the story and gameplay hinted at in the teaser, it looks like we can expect more mayhem and hellish carnage from this DLC, with plenty of Demons being torn into and ripped apart.
While the teaser is relatively short, we can already see that this first DLC will continue the Doom Slayer's journey where DOOM Eternal's campaign ended, showing off arenas spanning from the heavenly hallowed to hellishly horrifying. One of the new locations shown is what looks like an immense oil platform rising above a stormy sea. We also caught a glimpse of Urdak, the Heaven realm in DOOM Eternal, which seemingly has been taken over by demons. The teaser prominently shows a Tyrant demon with blue glowing eyes showing off his "guns" on Urdak accompanied by what we assume to be Vega's voice warning: "You are here to restore order to my world, but with the demons in control, you understand the threat they pose to all my creations." A palpable sense of foreboding ensues, and we're certain the Doom Slayer is about to run out of chewing gum yet again.
But that's not all. Executive producer Marty Stratton and game director Hugo Martin of id Software also mentioned future DLC to come, saying "We ain't seen nothing yet," in one of their QuakeCon panels on August 7th. As Martin pointed out at the trailer premiere, "Your rampage of destruction saved humanity from extinction, but it came at a cost." What cost could he be referring to? Martin even teased that we'll eventually get the chance to meet the person who "runs Hell," making his co-presenters visibly sweat. Did I hear anyone say "NDA"?
A release date for The Ancient Gods, Part One has not yet been announced, however, the teaser revealed that a full trailer with more info can be expected to drop at gamescom Opening Night Live on August 27th at 2 PM ET.