Doki Doki Literature Club Plus Coming to PlayStation 4/5, Switch June 30th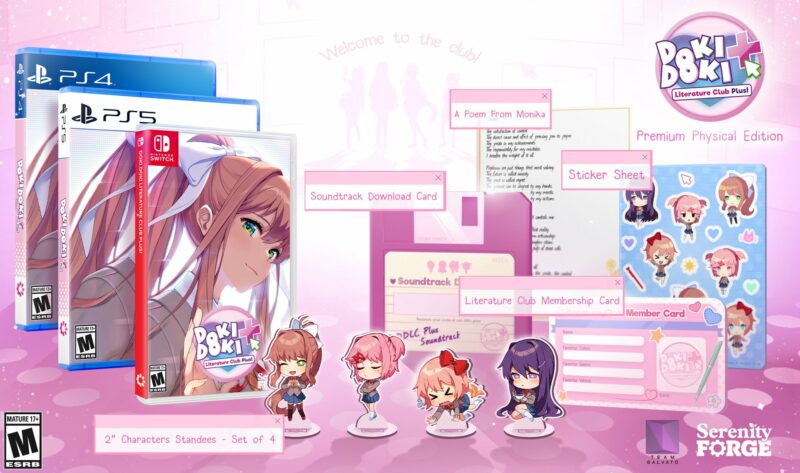 Hi there, senpai! Hope you've been feeling heartsick for your old pals back in Monika's Literature Club, because the gang's back for a new and improved adventure — Doki Doki Literature Club Plus! 2017's sleeper indie horror hit took the internet by storm back in the day, charming and terrifying players alike with its mix of genuinely sympathetic heroines and twisted psychological horror narrative that centered on a… well, you either know, or you deserve to find out on your own. It's been a while since 2017, and lone developer Dan Salvato has revealed that he's been working on a new version special for PlayStation 4/5 and Nintendo Switch, releasing June 30th! Check out the trailer:
Personally, I think it's a pretty good call to lead with Doki Doki Literature Club being a horror game rather than trying to hide it anymore. Everyone knows, and if you don't, this is more intriguing than googling and finding it out from some forum. Doki Doki Literature Club Plus includes six new side stories, new music, bonus features, and improved HD visuals, although I wouldn't be surprised if some changes were made to account for the shift to consoles as well. Being a PC game was somewhat integral to the original experience, so it'll need some retooling for the jump. Along with the game itself, there's also a physical edition coming from Serenity Forge, featuring a treasure trove of fun merch (which you can order from here):
Physical copy of the game for your platform of choice
Two-inch character standees – set of four
Full soundtrack download code – printed on floppy-shaped card
Vinyl sticker sheet – set of 17 stickers
Doki Doki Literature Club membership card
Exclusive special poem written by Monika
If you haven't gotten the chance to play this game, trust us and give it a shot. Easily one of the best psychological horror games in decades, with a fun narrative and characters, along with some delightfully disturbing moments and tons of great fan music and cosplay to discover after playing! The journey with Yuri, Sayuri, Natuske, and M̵͇̭̔͆ȍ̷̠̯n̴̥̚i̴̭̬͔͂ḳ̷̡̀a̴͕̽͝ is one you'll simply adore if you love horror games. We'll keep you up to date and hopefully get a chance to review the game's new features when it releases later this month.