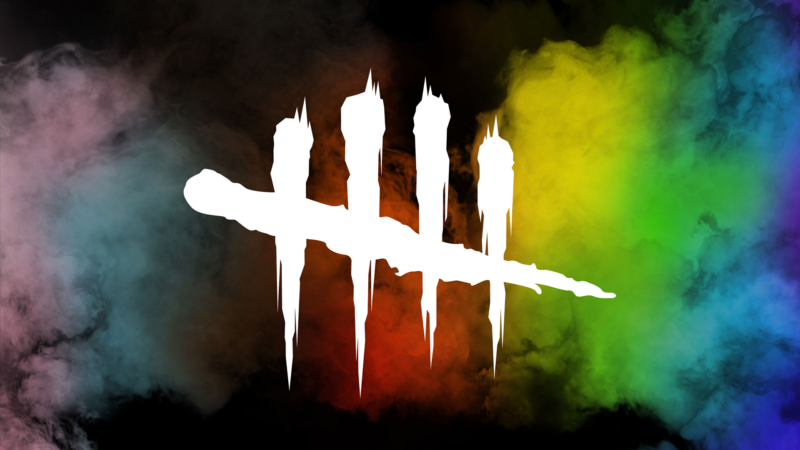 As we gear up for the release of the latest Dead by Daylight chapter, which is introducing Resident Evil's Nemesis, Jill, and Leon to the fog, developer Behavior Interactive made another exciting announcement! With Pride Month starting up in just a few days (June), the corporations are set to roll out their usual round of rainbow-colored odds and ends — but Dead by Daylight is getting a head start with a new charm, along with announcing plans for celebrating Pride and more!
Use code PRIDE in the in-game store.
Wear it with pride. 🌈 pic.twitter.com/np4nhxlymU

— Dead by Daylight (@DeadByBHVR) May 27, 2021
The new charm, which can be unlocked by entering PRIDE into the in-game store, is a cute little rainbow flag that you can add to your survivor of choice's belt, or onto your favorite killer's hook. For now, it's just this, although Dead by Daylight's Twitter account made mention that they aren't ruling out the possibility of adding more (gotta catch up with Gears of War, Behavior!). Along with this, Behavior posted a Pride Update, detailing plans both for Pride Month, and for integrating LGBT+ diversity into the game itself. From the update page:
Bringing inclusivity and representation to life in a meaningful way within Dead by Daylight's storytelling continues to be a focus for us – and one that's progressing. While we know many of you are eagerly anticipating this content (as are we!) it's vital to us that we not only deliver it – but more importantly, do it justice.

Our goal is to take the necessary time to ensure we get this right, creating the kinds of stories and characters devoid of negative tropes that our community deserves, versus simply checking a box. To help us achieve this, we're proud to announce our collaboration with external partners Brian Kunde and Katie Kaitchuck at GaymerX who are supporting us with best practices for integrating LGBTQIA2+ themes into established games. This will continue with specific consultations around in-game content and how we can approach these stories without falling into harmful representation.
Creating an LGBT+ character (or hopefully, characters) for a story can often be difficult, as it's easy for a character, no matter how well-intentioned, to come off as pandering or ill-informed. Even when a massively popular game does reveal that a character is LGBT+, such as Overwatch's Tracer and Soldier 76 — it's noticeably in a way that can be easily stepped around so as not to lose sales in more homophobic countries. The fact that Behavior wrote about the care their taking is encouraging, and here's hoping that they're able to craft something that manages to deliver characters that don't feel like they're ticking boxes off a checklist.
Finally, Behavior revealed that they'll be hosting an "Into the Rainbow" (as opposed to Fog) streaming event where "a diverse cast will be featured as 2 hosts and 2 teams of 5 duke it out" over on their Twitch channel. This will come in tandem with a Trevor Project charity, making a donation Project10, hosting a special event for Dead by Daylight Mobile, and more!
We're looking forward to seeing what Pride Month has in store for all our favorite games, but as an LGBT+ fan of Dead by Daylight, it's awesome to see one of my favorite games leading the charge this year.