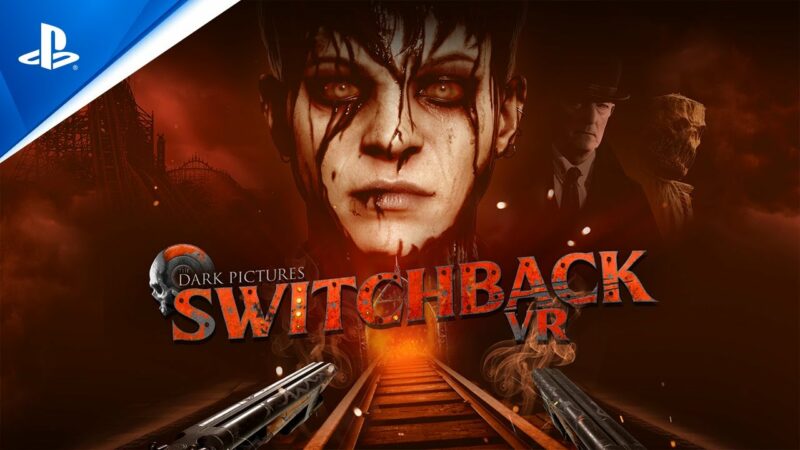 Today, Sony announced eleven new PS VR2 titles players can look forward to after the PS VR2 launches on February 22nd, 2023, including a new VR game set in the horror anthology series The Dark Pictures Anthology titled Dark Pictures: Switchback VR.
This new game follows two previous releases from Supermassive Games, the Until Dawn prequel The Inpatient and the on-rails rollercoaster shooter  Until Dawn: Rush of Blood. Switchback sounds like it will combine locations and elements from all four stories from Season One of The Dark Pictures Anthology.
Speaking to PlayStation.Blog, Game Director at Supermassive Games, Alejandro Arque Gallardo, elaborated on what players could expect from the upcoming VR title:
Don't blink – Immerse yourself in this fast-paced roller coaster action-horror-shooter where every move you make, and everything you see, could mean the difference between life and death. Experience the thrill of the most nightmarish VR roller coaster action-shooter, enhanced by the innovative features of PlayStation VR2 and set inside the sinister world of The Dark Pictures Anthology.

Switchback VR will take players for a multi-sensory ride on where they'll need to survive the terrifying Ghost Ship and its distorted apparitions, confront hideous demonic incarnations of persecuted 'witches' in 17th-century New England and then fight for their life against other-worldly vampires trapped beneath the desert. Finally, escape the horrifying World's Fair Hotel with a sadistic serial killer out for blood and discover how your story connects these worlds on this sinister rollercoaster from hell.
Gallardo also spoke about the new PSVR 2 features the game will take advantage of:
Endure every bump, twist, turn and drop as your cart speeds along the tracks with haptic feedback bringing that roller-coaster feeling to life. Adaptive triggers make each weapon feel unique as you unload on terrifying enemies that emerge from the shadows. Avoid falling beams, overturned buses, and hanging witches. Headset feedback ensures that you'll feel it if you don't! With the PS VR2 headset eye tracking, we made enemies that only move when you blink, and hear demons whisper in your ear with the PS5's 3D Audio. It's your own personal nightmare where each track has multiple terrifying paths. No two runs will be the same, but each will test your reactions in this terrifying VR horror experience.
Dark Pictures: Switchback VR doesn't have an exact release date yet, but it shouldn't be too long after the PS VR2 launches on February 22nd, 2023. You can wishlist the game via the PlayStation Store.
Be sure to check out the newly released announcement trailer below.