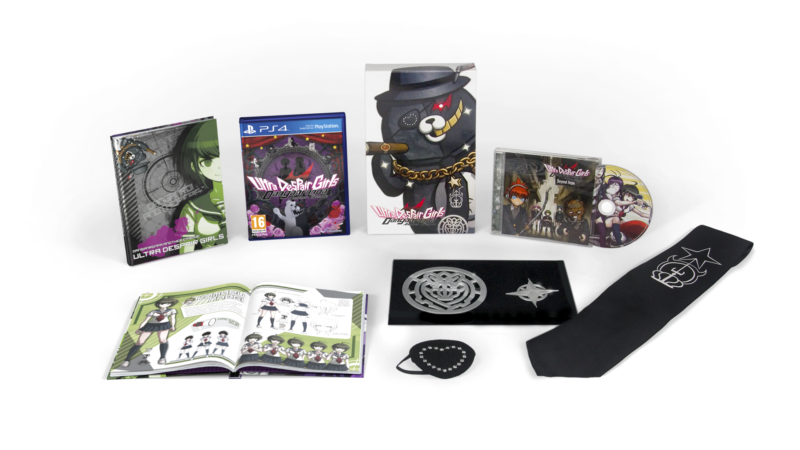 2017 is going to be a good year to be a Danganronpa fan.
Following the announcement that NIS America is bringing both of the original Danganronpa games to PlayStation 4 early next year in the form of Danganronpa 1•2 Reload (complete with limited edition), the publisher has also confirmed that they'll be bringing Danganronpa Another Episode: Ultra Despair Girls (a game I was quite fond of) to the PS4 in North America and Europe as well. Spike Chunsoft will additionally self-publish the game on Steam, much like they did with the last two games.
NISA stated in a press release that Ultra Despair Girls will be receiving both a physical and digital release, but did not comment on a release date beyond "Summer 2017." Additionally, the physical version will be receiving a Limited Edition identical to the one the Vita version launched with, including such goodies as a Kurokuma eyepatch, a mini artbook, a hard copy of the game's kickass soundtrack, and a somewhat dorky tie.
If that wasn't enough Danganronpa love comin' at ya in 2017, don't forget that the third mainline entry in the series, New Danganronpa V3, is hitting Japan in January too. No English release has been confirmed for NDRV3 as of yet, but given the effort that NISA is going to to make the entire series available on PS4 by Fall 2017 I'd be very surprised if we didn't hear word of an official announcement soon.
Until then, be sure to keep your eyes peeled for more news, or check out our review of the Danganronpa 3 anime to tide you over until the real deal arrives in a mere two months.