Simon and Richter Belmont Make Their Way Into Super Smash Bros.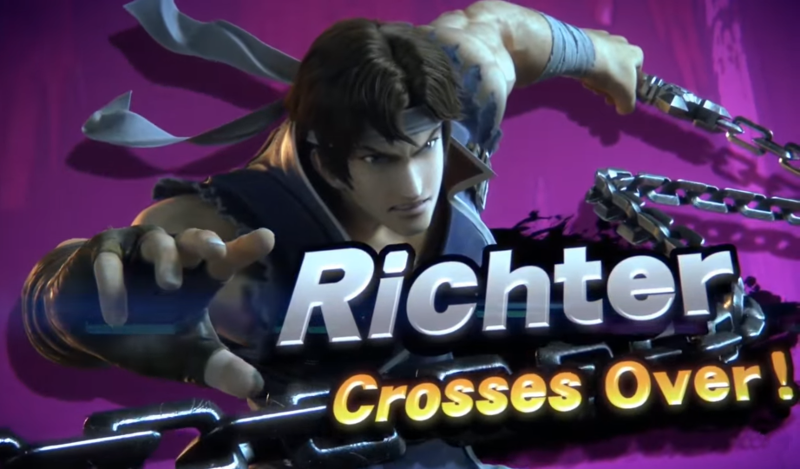 On today's Nintendo Direct for the upcoming Super Smash Bros. Ultimate, Masahiro Sakurai announced that Castlevania's vampire hunters and series protagonists Simon Belmont and Richter Belmont will be making a debut. In a similar fashion to other character reveals, the trailer is comprised of both a cinematic portion as well as actual gameplay footage. Simon will be utilizing all of his classic weaponry, including his whip Vampire Killer (which has the octo-directional swing from Super Castlevania 4), the Cross, and even Holy Water. We also get a look at the new Castlevania stage, which will feature stage hazards based on several of the original trilogy's bosses, including Dracula himself!
On top of all this, Dracula's son Alucard (the star of Symphony of the Night) will be an assist trophy, and they're also implementing over 30 pieces of remixed and original Castlevania music, including the awesome remix of Castlevania 1's Vampire Killer track.
It is worth noting that Richter will be an Echo Fighter, meaning that his moveset will effectively be identical to Simon's, and any differences will be purely cosmetic. It is also worth noting that Castlevania is Konami's 2nd intellectual property to appear in Super Smash Bros. (preceded only by Metal Gear Solid). This to me is an indicator that there is a greater possibility that more Konami characters in future installments and DLC. Expect a Pyramid Head DLC pack, as well as a bonus DDR themed stage.
At the Nintendo reveal at least E3, Sakurai warned players that there may not be as nearly many new challenges in Smash Ultimate, but the additions so far have been fantastic.
You can also check out our review Castlevania: Lords of Shadow 2. Will you be playing the Belmont's in Smash Ultimate, and what other characters do you hope to see make a debut? Tell us in the comments below.