Asymmetrical Multiplayer Game "Last Year" Permanently Reduced to $5.
Despite its proven successful premise, high-quality visuals, and quite entertaining gameplay, asymmetrical multiplayer horror game Last Year has struggled considerably. Developer Elastic Games went through a whole lot since their game was initially announced (which I recap in this news post), with its last major hurdle being the shuttering of the Discord game store where it launched exclusively in December 2018. A year later, it released on Steam, but even then, the game failed to compete with the likes of similar games like Dead By Daylight. Well, just like a slasher flick killer, Last Year hasn't given up.
Elastic Games has announced a permanent price drop for Last Year from $19.99 to just $4.99 USD. The developer posted on their Discord that because of a successful uptick in players during the Steam Halloween sale where the game was sold for just $1.99 (!!!), they have decided to lower the barrier of entry for good.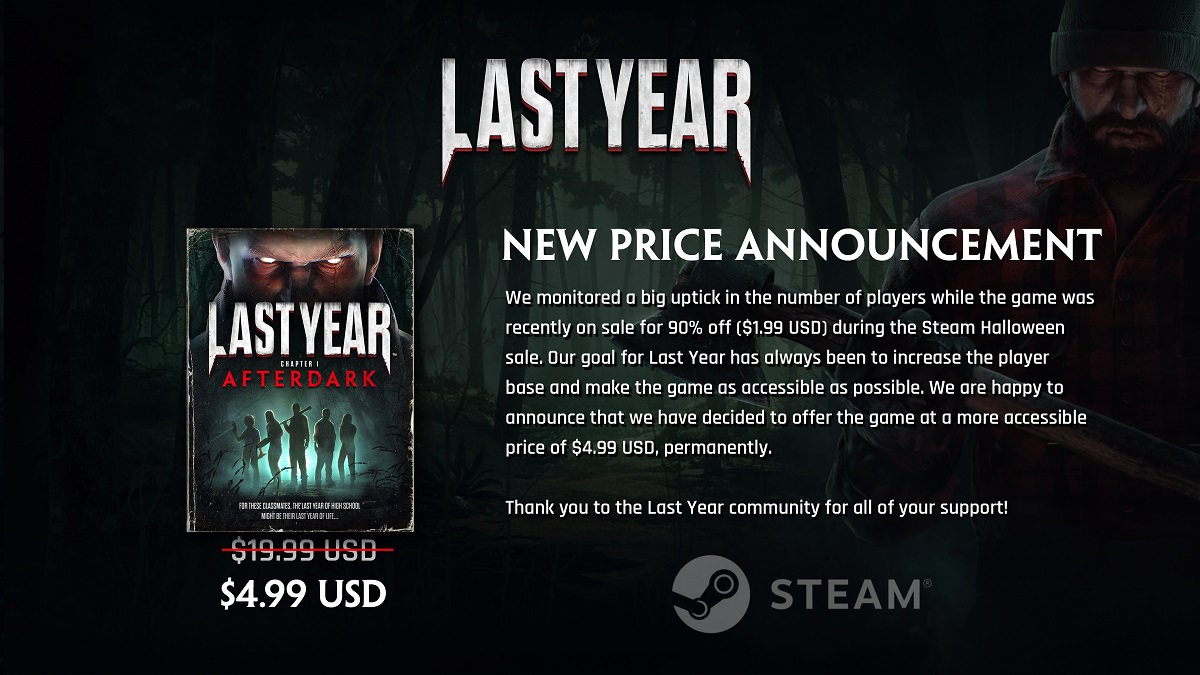 Based on my own occasional browsing of the Last Year Discord group, members of Elastic Games have been very transparent about their hopes for the game and their disappointments. It's clear that they're a passionate bunch, and with a pretty good game on their hands, success is just one stroke of luck away. Perhaps with the new $5 price point, Last Year may find success much like Among Us did some two years after its release.
Last Year is available on Steam. There is presently no new news about the game's intended console launch.