Developer Asobo Studio recently released a gameplay overview trailer for A Plague Tale: Requiem and announced via Twitter that the game has officially gone gold.
You can read the tweet below:
True. We're delighted to announce that #APlagueTaleRequiem has gone GOLD 💛✨

We can't wait for you to see what adventures await Amicia and Hugo! Pre-order here: https://t.co/aVKXEjUus0 https://t.co/6bfCHifnhM pic.twitter.com/SxZRTTVocf

— A Plague Tale (@APlagueTale) August 19, 2022
Set six months after A Plague Tale: Innocence, Requiem continues the story of siblings Amicia and Hugo as they travel south, to new regions and vibrant cities to attempt to start a new life and control Hugo's curse. But when Hugo's powers reawaken, death and destruction return in a flood of devouring rats. Forced to flee once more, the two place their hopes on a prophesized island that may hold the key to saving Hugo.
In addition to the announcement that the game has gone gold, Asobo Studio Game Director Kevin Choteau also gave an overview of the sequel's gameplay and how the events of the previous game have shaped Amicia and Hugo.
Posting on PlayStation.Blog, Choteau said:
Hugo and Amicia have had to evolve a great deal, and to evolve fast to face the trials that life puts in front of them. They're confronted with the extreme cruelty of their time, and experience atrocities and events that are far bigger than them. So their personalities and their abilities evolve in the process.

Amicia learns to fight and to kill, and Hugo learns to use his power. And that does not strictly involve physical skills, it also means to deal with the morality of their actions and the trauma such amount of violence may cause.
Both characters have matured considerably following the events of Innocence. Amicia's more hardened in combat, made clear by looking at her new set of weapons, which not only includes an improved version of the sling she was using in Innocence, but also a crossbow—a weapon of war. Requiem constantly puts her in the position to question the limits of survival and protection instincts. She's moved past hesitation, but the risk for her to sink completely into violence is real.
Amicia will need to control this risk of escalation, and that will be made possible by the agency given to players in approaching situations and solving them. The array of tools she can use will broaden, with new alchemical recipes, her improved sling, and a crossbow. But more importantly, a whole new spatial dynamic will be introduced.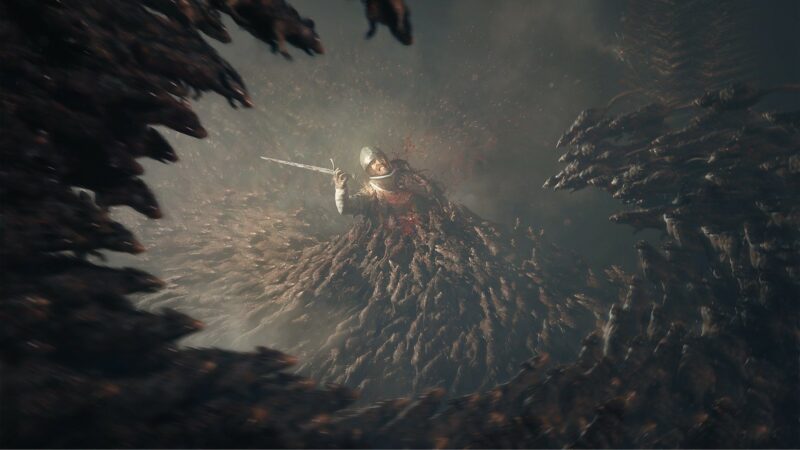 Hugo, who was really just a spectator at the start of Innocence, now becomes active and aware of the dangers facing him. He has an extraordinary power that he started using at the end of Innocence, and he continues down that path in Requiem.
In addition to summoning and controlling rats on a scale large enough to overtake an entire city, Hugo also gets to share the perception and feelings of the rats, and every time he does, it damages him a bit more. That impacts the player's experience as well and teaches them to be cautious. There is a vicious pleasure in unleashing this power but for every violent act, there are consequences and a price to be paid. It's a story of moral dilemmas, with the progression of the Macula curse and the lives of people Hugo holds dear at stake.
A Plague Tale: Requiem releases on October 18th. Preorders are available directly through Focus Entertainment for PC, PS5, and Xbox Series X/S, with the game being only available on Switch via Cloud Streaming. Additionally. you can play it on day one with Game Pass.
You can watch the official gameplay overview trailer below.