EXCLUSIVE: Tango Gameworks Gives Closer Look At The Evil Within 2 With New Screenshots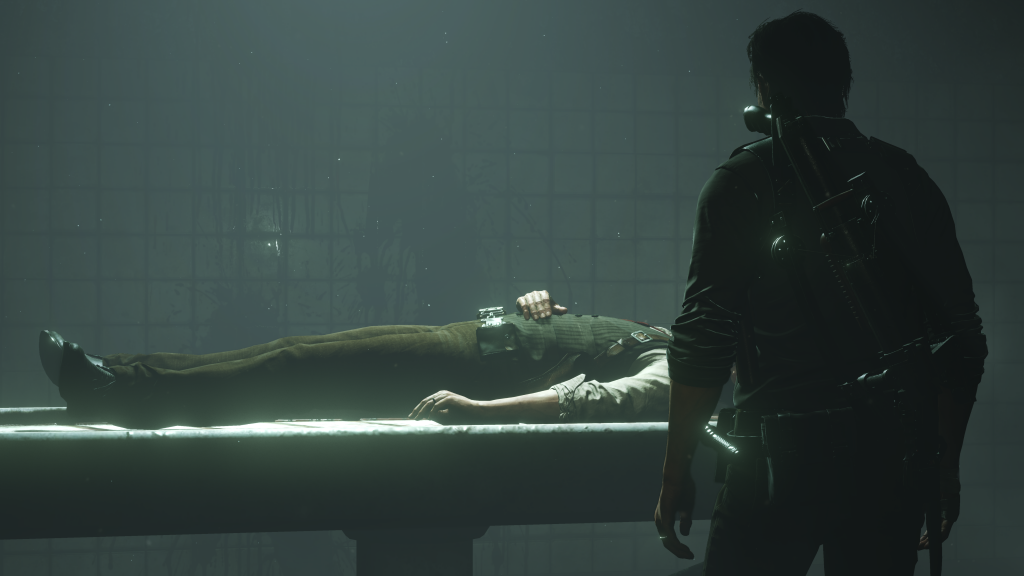 Rely on Horror had the opportunity to show off some exclusive new screenshots of Bethesda and Tango Gameworks highly anticipated horror romp, The Evil Within 2. Since we never miss a chance to spill some chills before a game releases, we have compiled for you these several new screens, as well as accompanying details courtesy of Tango Gameworks. New details on upgrades, enemies, and weapons follow.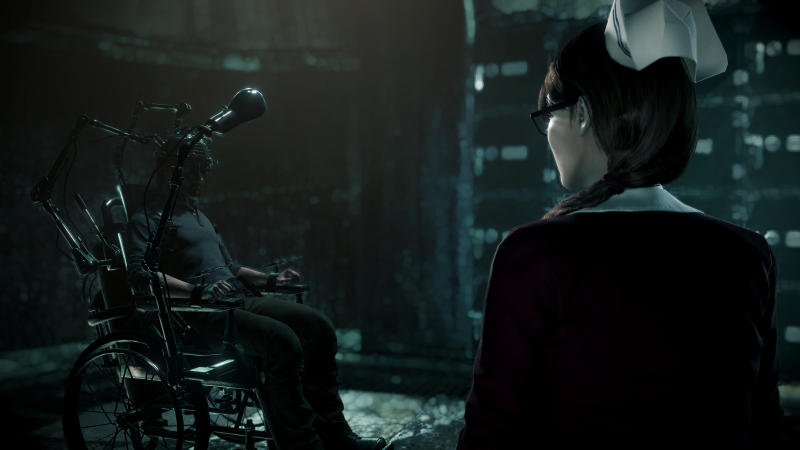 Just like the first game, Tatiana is there to provide you with valuable upgrades to Sebastian's core ability set.  Make sure you take a look at all available upgrades, and customize your Sebastian to your play style.  Some of the upgrades in the game require large amounts of Green Gel, so explore Union to find some and use it wisely.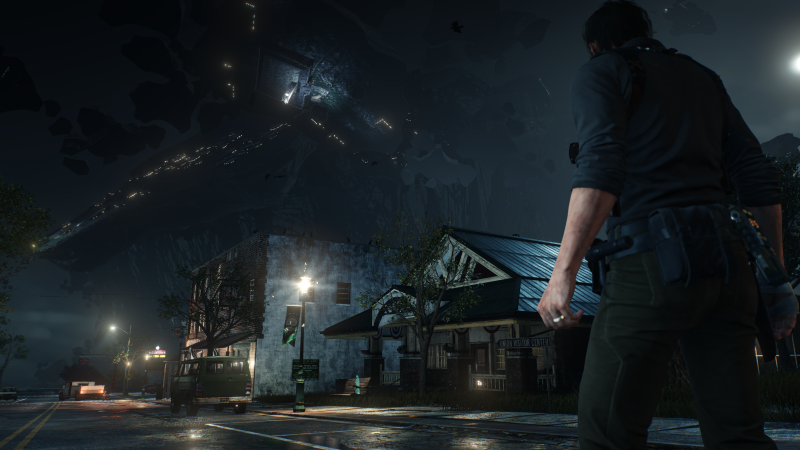 These first two slides show off a significant shift in the games art style since the first game. While there are still surreal elements and shifting landscapes for Sebastian to get lost in, there is a distinct lack of grit and an overall haziness that was present throughout The Evil Within. While I personally don't mind the shift, some have expressed that the end result looks far less atmospheric and stylized. We don't have the game in our hands quite yet, so how the shift in style affects the experience is anyone's guess at this point. I personally appreciate the sequel's added color over the perpetual gray hues of the series initial outing.
We also see that the upgrade chair is returning, as well as the mysterious nurse Tatiana from The Evil Within. As I described in my Quakecon impressions, the upgrade system has been overhauled to offer a more personalized experience. Players who want to approach encounters with stealth will be free to invest in entirely different upgrades than someone who prefers to tackle challenges with all guns blazing.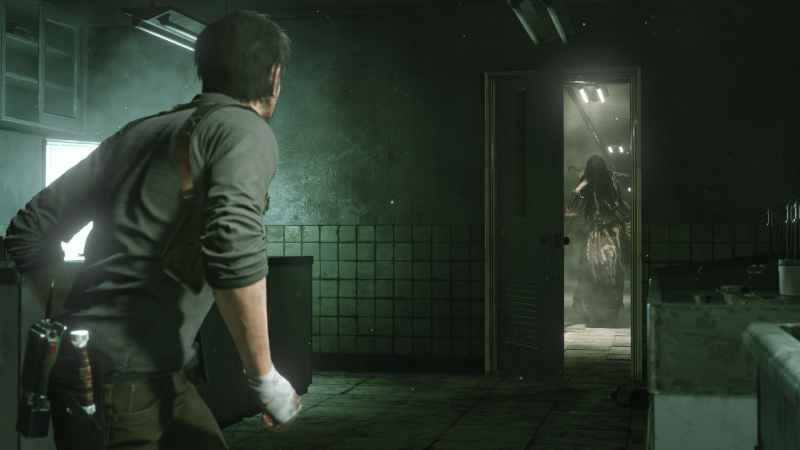 Anima is an apparition that can make an appearance at any time, so you should always be on your feet.  Although she cannot be killed, when you face off against her and escape, you'll be rewarded with a new projector slide for your collection. Take these back to Sebastian's safe house to unlock new conversations with Juli Kidman. Collect all of the slides to learn… the truth.
In these two images, we see Anima and the mysterious black cat that I encountered during my Quakecon 2017 demo. The cat is highly reminiscient of the cat seen in The Evil Within's Assignment and Consequence DLC's, which heavily featured Juli Kidman. While Kidman makes a return as a supporting character in The Evil Within 2, it's not clear if the cat is related to her this time around, or represents something else within STEM.
As for Anima, the element of randomness she presents is a unique addition to The Evil Within 2's various challenges, and giving players an incentive to defeat her is a smart move. During the brief demo I played I got the impression that the projector slides Sebastian collects go a long way towards exploring the games story, so I'm going to do my best to defeat Anima whenever I can. With The Evil Within 2 putting a heavier emphasis on the psychological elements of its narrative, I think its entirely possible that Anima is more than just a simple manifestation of the games villains, and possibly has a much more personal connection to Sebastian and the search for his daughter.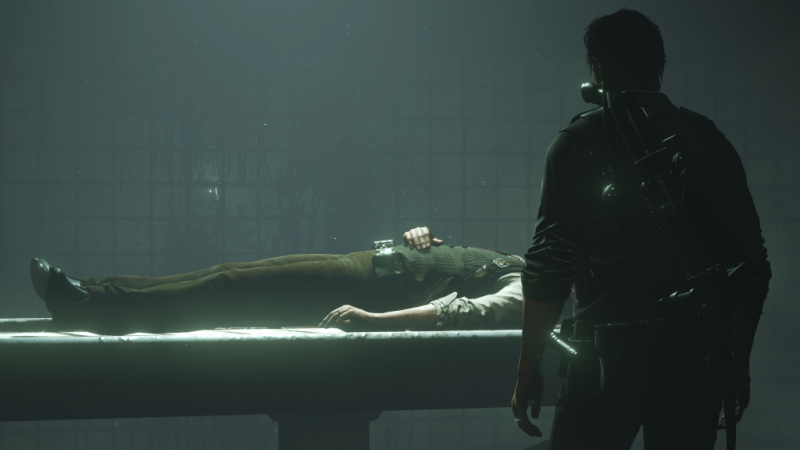 Although this is an entirely new and separate STEM system – one run by Sebastian's daughter, Lily, who has no recollection of the events at Beacon Mental Hospital – some of the past seems to be surfacing in this new system. How could that be? And what does it mean?
In this screenshot, we see Sebastian standing over his own body, still clad in clothing from the events at Beacon Mental Hospital in The Evil Within. Tango is being pretty cryptic with their description on this one, which leads me to believe it could lead to some pretty big story revelations. We've already seen that STEM has been affected by Lily, Stefano, and Father Theodore, but none of them were featured in the first game. Perhaps a certain hooded villain make a surprise return in The Evil Within 2?
The Warden Crossbow is a great tool to use both offensively and defensively. Using Smoke Bolts or Stun Bolts can provide you with valuable time to escape, while the Explosive Bolts can be laid like traps and pack quite a punch.
The Evil Within's Agony crossbow was a versatile weapon that allowed players to craft ammo on the fly, encouraging improvisation and quick thinking. The new Warden crossbow seems to be continuing this tradition, offering players even greater choice in how they decide to tackle their objectives. You can get an idea of what the Warden crossbow looks like in action with our gameplay demo.
The Evil Within 2 is fast approaching, and we here at Rely on Horror are very excited to get our hands on the full game. For more coverage of Tango Gamework's upcoming title, you can check out our Quakecon interview with Shinji Mikami, John Johannas, and Trent Hagge. You can also check out 35 minutes of gameplay right here, or read out impressions of the game's Quakecon 2017 demo right here.
The Evil Within 2 hits PS4, Xbox One, and PC on October 13. Stay tuned to Rely on Horror for further coverage.