It's Time to Enjoy Rely on Horror Ad-Free!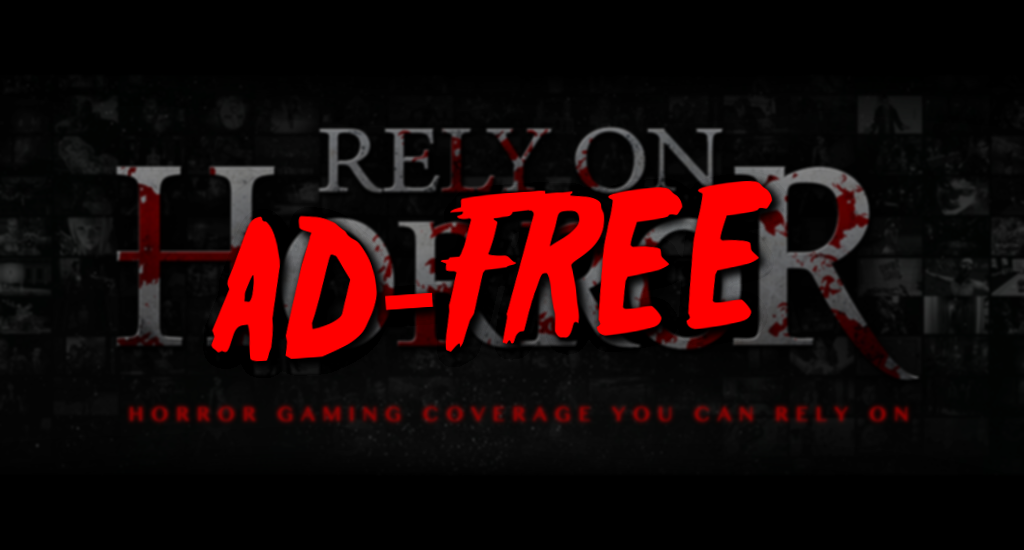 You heard that right; your #1 destination for horror gaming coverage is now available ad-free! After much deliberation, math, and technical wizardry, we're now prepared to offer you RelyOnHorror.com without advertisements. How do you enjoy such splendor? Simply become one of our wonderful backers on Patreon for as little as a dollar (or equivalent international currency) a month. From there, you'll receive specific instructions, and you're in. That's just a dollar for an ad-free browsing experience … plus a whole lot more goodies that you might have been missing out on.
As of today, if you choose to support us on Patreon (and we hope that you do) for a dollar or more a month, you'll receive the following rewards:
RelyOnHorror.com ad-free (All 5 ad blocks removed)!
Exclusive monthly horror film commentaries – from classics to the latest releases!
Invitation to an hour-long monthly Google Hangout session with Rely on Horror staff members for topical discussions and the latest news on the horror genre!
An exclusive Discord Role!
Advanced access to episodes of the Rely on Horror Show on Youtube !
Access to the Patreon comments page
Automatic entry into eligible site contests (requires valid email)
A Thank You on the site
Inclusion in our weekly newsletter!
Again, you'll receive exclusive access to everything above as a supporter of ours on Patreon. A dollar gets you full access, but you're welcome to bump up your pledge.
[Become a Patron of Rely On Horror here to help support our longevity and continued growth!]
We hope that you all appreciate the addition of an ad-free experience and can toss a dollar or more our way a month. Every contribution is incredibly appreciated and goes a long way to keeping the site alive, enabling more content, and equipping our team with additional resources. With your support, perhaps we can even reach our first Patreon goal by the new year! From all of us on the site, we thank you for your comments and activity here. Here's to at least nine more!
– The Rely On Horror Team