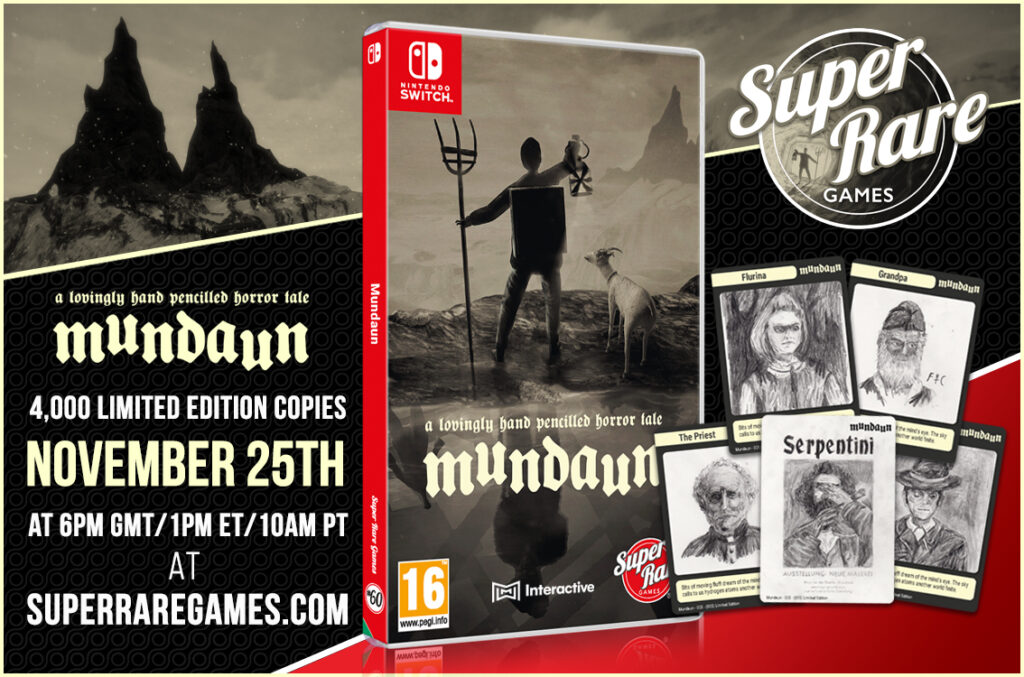 Super Rare Games has just announced a partnership with Hidden Fields and MWM Interactive to bring a physical edition of their atmospheric horror adventure game Mundaun to the Nintendo Switch for the first time.
This rare print physical release includes all the current content on the cart, a full-color manual, interior artwork, an exclusive sticker, and trading cards. Only 4,000 copies total will ever be printed, which go on sale November 25th at 6 pm GMT (10 am PT/1 pm ET). This release will be available worldwide exclusively at superraregames.com.
Features:
Unique setting – Immerse yourself in the unique setting of an alpine world where reality and myth intertwine, interacting with eccentric inhabitants with their own obscure spoken language
Hand-penciled art – Experience a gorgeous greyscale aesthetic, thanks to hand-penciled textures that give off a one-of-a-kind haunting vibe
Beware the alps – Explore varied and open levels, from green meadows to snowy peaks, while solving puzzles integrated into the game world – but beware of the creatures roaming the landscape…
Overcome your fear – Find out the dark secret behind your grandfather's death, battling against a fear resistance factor, diabolical creatures, and supernatural happenings to discover the truth
For more information on the Mundaun physical release, you can check out the official Super Rare Games site here.