Don't get your hopes up on a Deadly Premonition: DC patch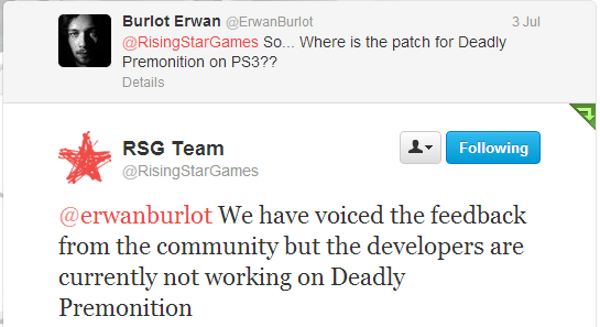 Deadly Premonition was never known for its technical prowess, but when its Director's Cut version released last April, many fans old and new alike noticed that the "superior" version of the game had an inconsistent and poor framerate. Once the game released, reports from buyers of the game noted that the Director's Cut was a bit laggy and performed below the console standard of 30 frames per second. In my review, I agreed with the complaints found on message boards. There is no reason why a re-release should perform worse than the prior release, especially after an added year or two of development. The framerate issue is not enough to make it a terrible game, but enough to disappoint those looking for a stable experience.
Framerate concerns were expressed to publisher Rising Star Games, and they claimed to pass along the issues to Deadly Premonition: Director's Cut developer ToyBox. We've been waiting a long time for some word on the state of a patch, and now we finally have some information: don't expect it.
In a reply to a concerned fan on Twitter, publisher Rising Star Games stated that they have informed the developer but they "are currently not working on Deadly Premonition." I've sent an email to Rising Star Games in the past regarding this issue, and was never replied to. It's nice of them to answer a concerned fan, but no official announcement after so long is pretty telling of the situation.
At this point, it's probably not worth the effort for ToyBox to patch the game. If you've been waiting for the patch like myself, you might have to put that to rest. But hey, at least there's a dozen DLC packs for the game and PlayStation Home costumes to be excited for, right?
[Source]