Upcoming Silent Hill games re-dated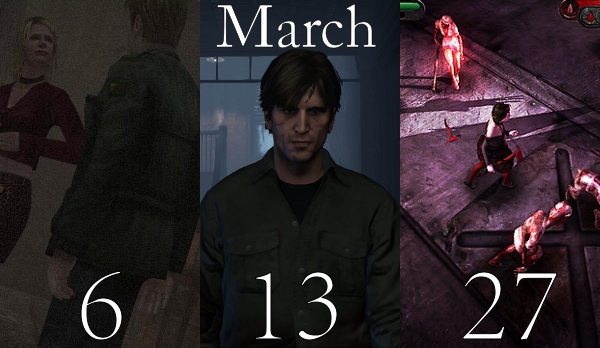 It seems that Konami has changed their minds about the releases dates for their Silent Hill games at the very last minute. Even though we were just given release date information for Silent Hill Downpour last week, we now have a new date for the latest entry in the series. Hold on, don't freak out just yet, Silent Hill Downpour has been pushed by just a week from its original March 6th date. Downpour will now officially arrive on March 13th; for real this time.
Unfortunately, the Silent Hill HD Collection has also been delayed from its original release of January 24th. This is very unfortunate, because I was hoping to spend some time maxing out the achievements in both Silent Hill 2 and 3 this month. The new date for the HD Collection is March 6th. Delays hurt, but hopefully it's for the greater good. In this case, the game's level of polish.
Lastly, Silent Hill Book of Memories, the Playstation Vita spinoff title, will release March 27th. This no longer puts it in the launch window of the Playstation Vita. If my time with the game is any indication of its level of completion, then by all means delay it, Konami. Nothing worse than an unpolished game.
Well, there you have it. Just like that we now have the–hopefully–final release dates for the three upcoming Silent Hill games. Hell, I certainly hope so! March 13th is my birthday; the last time a high profile horror series released on my birthday was Resident Evil 5, wait… I hope that's not a bad omen.
KONAMI RELEASES NEW SCREENSHOTS AND RELEASE DATES FOR SILENT HILL FRANCHISE

Konami Digital Entertainment, Inc., today announced the definitive release dates for the three 2012 Silent Hill franchise titles: Silent Hill HD Collection, Silent Hill Downpour and Silent Hill Book of Memories. Available nationwide this March fans can experience the horror and thrill that they've come to love while embarking on exciting new quests and challenges.

Silent Hill HD Collection: March 6.
Silent Hill HD Collection serves as a tribute to the core Silent Hill fans by taking the most famous games of the series, Silent Hill 2 & 3, and re-mastering them in high-definition graphics and adding new voiceovers.

Silent Hill Downpour: March 13.
Silent Hill Downpour follows the story of Murphy Pendleton, a convicted felon, who finds himself trapped in Silent Hill after his prison transport bus crashes. Silent Hill Downpour is the most expansive Silent Hill to date, as players can embark on side missions, explore the town and piece more of the mystery of Silent Hill together.

Silent Hill Book of Memories: March 27
Available exclusively for the brand new PlayStation®Vita handheld device, Book of Memories is an all-new game in the Silent Hill series, with a unique premise and storyline. The story begins with a strange book that is received; inside that book is your entire life story and all of your memories. You discover that by altering what's written you can actually change the past. You can write your own ideal history. And for the first time ever in a Silent Hill game, it will support multiplayer, so friends can share in the fright in a co-op mode.