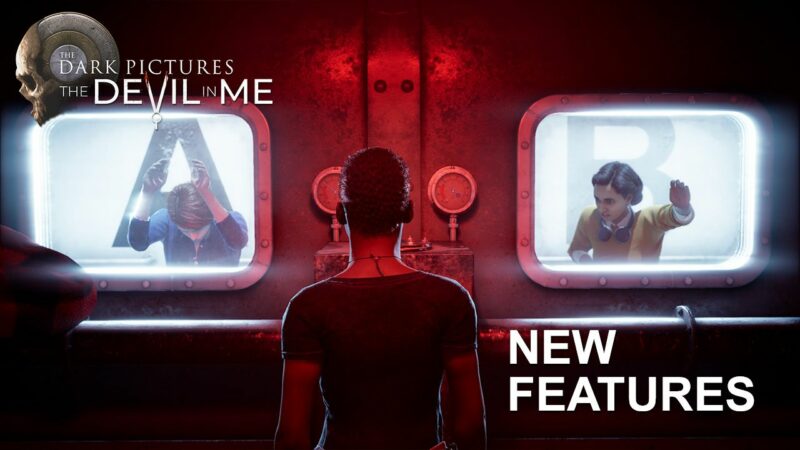 Publisher and developer Bandai Namco Entertainment America Inc. just released the latest trailer for The Dark Pictures Anthology: The Devil in Me at Gamescom 2022. The trailer showcases new gameplay features and the game's narrative which promises to take players down the darkest path yet in the season one finale of this thrilling anthology.
In The Devil in Me, a documentary film crew must escape a nightmarish experience in a place called "the murder hotel," a grim setting where they encounter gruesome discoveries and murderous traps set for them by their mysterious host.
This newest entry in the series delivers over seven hours of gameplay with a mix of action and puzzle solving, where players can explore, escape, untangle mysteries, or find themselves tangled where failure may prove to be costly. The game also sees the return of co-op multiplayer. Players can try to escape this nightmare alone or seek safety in numbers with friends, whether playing online or locally in couch co-op mode.
Players can now interact with the world around them by manipulating objects and running, jumping, or climbing to get to hard-to-reach areas. Also new is the inventory system which provides each character with useful tools such as a microphone, camera, and camera flash, along with other objects that can be used to save or take a life.
The Dark Pictures Anthology is a series of standalone, branching cinematic horror games, designed to present a new terrifying experience on a regular basis. Each game is unconnected and features a brand-new story, setting, and new cast of characters. There have been three previous entries in season one, including Man of Medan, Little Hope, and House of Ashes.
There are two versions of the game available for pre-order, the Standard Edition and a premium version called The Animatronic Collector's Edition. Both can be pre-ordered via Bandai Namco's website.
The Devil in Me is scheduled to release on November 18th, 2022, for PlayStation 5, Xbox Series X|S, and PC via STEAM.
Be sure to check out the brand new features Gamescom Trailer below.