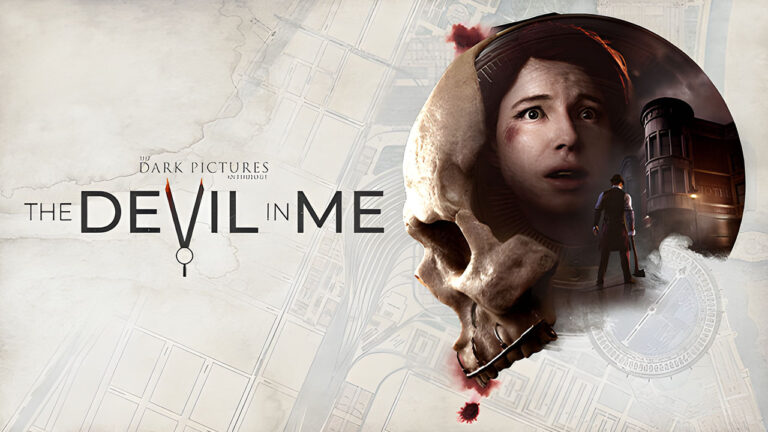 Supermassive Games and Bandai Namco just released a brand-new trailer today for The Devil in Me, revealing the game's macabre setting and characters. The Devil in Me is the fourth game in The Dark Pictures Anthology series and the Season One finale.
In a press release from today, the publisher provided an overview of the game's story:
A group of documentary filmmakers receives a mysterious call inviting them to a modern-day replica of serial killer H.H. Holmes' 'Murder Castle'. It's an opportunity that's too good to pass up and could be just the thing they're looking for to win some much-needed public interest

The hotel is the perfect setting for their new episode, but things aren't quite as they seem. The crew discovers they're being watched and even manipulated, and suddenly there's much more at stake than just their ratings!

The Lonnit Entertainment TV crew receive a pressing and mysterious phone call from a man called Granthem Du'Met, with a promise of a tour around a faithful recreation of the H. H. Holmes murder castle, an idea that Lonnit Entertainment founder Charlie Lonnit believes might just save his show.

Oscar nominee Jessie Buckley stars as a member of this ill-fated crew that visits this strange hotel location, a place that quickly turns into a deadly trap made by their disturbed host Granthem Du'Met. Observed, isolated, and manipulated like rats in a maze, it soon becomes clear that the crew's check-out is compromised, and they will have to make some impossible choices that they might live to regret or just not live at all!
Features:
Welcome to the Murder Hotel!
Nothing is as it seems here, and the amenities are to die for! Explore every nook of the World's Fair hotel using the all-new season finale features including character inventory, tool-based puzzles, and expanded movement actions such as run, jump, and climb.
Your death is his design
Escape the torturous creations of an evil monster who is hellbent on becoming America's deadliest serial killer. Survive elaborate 'killing rooms' where your own death is by the killer's design.
Don't Play Alone
Endure terrifying tests of loyalty – will you risk your own life for someone you care for? The two critically acclaimed multiplayer modes are back: share your story online with a friend or aim for safety in numbers through the offline 5-player pass-the-pad mode.
Pre-orders for the Standard Edition of The Devil in Me include exclusive early access to "The Curator's Cut," which allows players to play previously unavailable scenes with different playable characters to make new choices with different outcomes.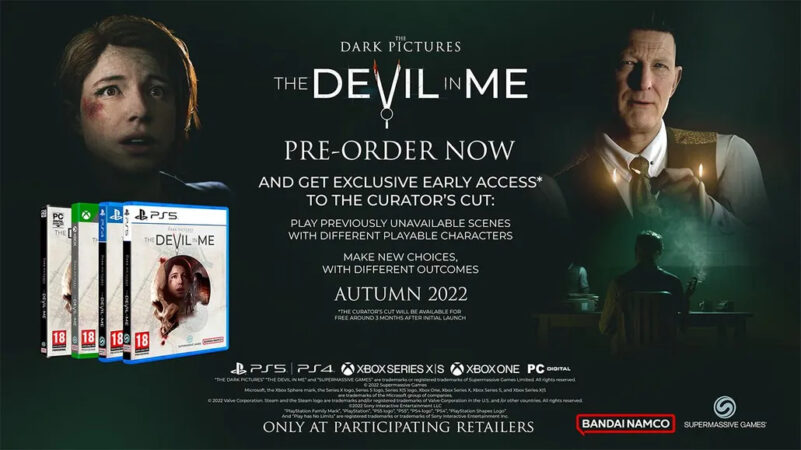 A premium version of the game called The Animatronic Collector's Edition of The Devil in Me, which is exclusive to the Bandai Namco Store, is also available and includes:
An animatronic bust figurine (11 cm)
An exclusive postcard and envelope
A Lonnit Entertainment business card
A trusty map of the Hotel Island.
In addition to the two versions of The Devil in Me, a new The Dark Pictures Anthology bundle will also be available this Fall, which includes The Dark Pictures Anthology: House of Ashes, The Dark Pictures Anthology: The Devil in Me, an exclusive set of The Dark Pictures Anthology: House of Ashes playing cards, two exclusive collectible pins, an exclusive hotel map, and early access to "The Curator's Cut" pre-order bonus.
The Dark Pictures Anthology is a series of stand-alone branching cinematic horror games designed to present a new terrifying experience on a regular basis. Each game is unconnected and will feature a brand-new story, setting, and new cast of characters.
Pre-orders are now available for both the Standard Edition and the Animatronic Collector's Edition via Bandai Namco's website. The Devil in Me is set to launch this Fall for PlayStation 5, Xbox Series X|S, PlayStation 4, Xbox One, and PC via Steam.
Be sure to check out the brand new story trailer below.