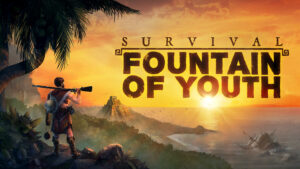 Odinsoft and Twin Sails Interactive have announced that Survival: Fountain of Youth, their upcoming single-player survival game following a doomed Spanish expedition, will be heading to Steam Early Access on April 19th.
The reveal came at this year's Future Games Show: Spring Showcase, where a new trailer was shown-off that demonstrated some of the game's many features.
Marooned on a deadly archipelago in the Carribean Islands, where the environment is as lethal as the animals, you'll have to scavenge for materials, slaughter beasts and search for your crewmates in order to survive. The elusive Fountain of Youth is out there, and if you can make it through the overwhelming challenges facing you, it's yours to find. Charter the seas in a variety of ships across the game's massive world, with over 15 islands to explore, each one layered with secrets to uncover.
Crafting is an important aspect of the game, and Survival features a wide variety of craftable tools, weapons and structures. These range from fearsome firearms to the simplest of comforts like warmth, shelter and bedding. You'll need them all if you want to live to see the Fountain of Youth with your own two eyes in this challenging and fresh spin on the survival genre.
Although Survival is only headed to Steam at launch, PS5 and Xbox Series X|S versions will arrive when Version 1.0 releases. The game promises a radical evolution across the Early Access period; Odinsoft claim that new regions, biomes, and quests are all set to come via a series of updates. Stas Ignatov, Head of Publishing at the company, had this to say about Survival:
We wanted to create an immersive and challenging survival experience set in a historically rich and mysterious world. We believe Survival: Fountain of Youth will become a favorite among gamers who love exploration, and will continue to update and improve with the community's feedback.
You can wishlist Survival: Fountain of Youth on Steam now, and view the latest trailer below: