Steam discounts horror novels in big anime-themed sale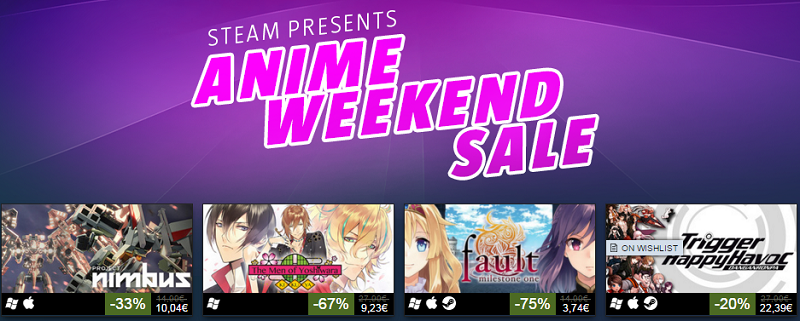 We recently did an article about how Japanese visual novels are becoming increasingly prevalent in the western market. To prove my point: Steam is now holding its second anime-themed sale and it's even better than before.
While the last sale was drowned out by petty discussions about whether or not a Legend of Korra game deserved to be included in it, this time around we got a nice selection of quality stuff to choose from. Horror fans can pick up the first two entries of the popular Danganronpa series at a 20% discount, as well as the first two chapters of the excellent Higurashi series by 07th Expansion at 30% off each. Sound of Drop, which scored a 9/10 in our review and was voted into the top three games of 2015 by the community enjoys a big 50% discount.
If you still got money to burn after all that, then you can pick up classics like the romance drama Clannad and the brilliantly written World End Economica. My favorite PC game of all time, Recettear: An Item Shop's Tale is also among the discounted items, as is Long Live the Queen, the Dark Souls of cutesy visual novels.
[Source]