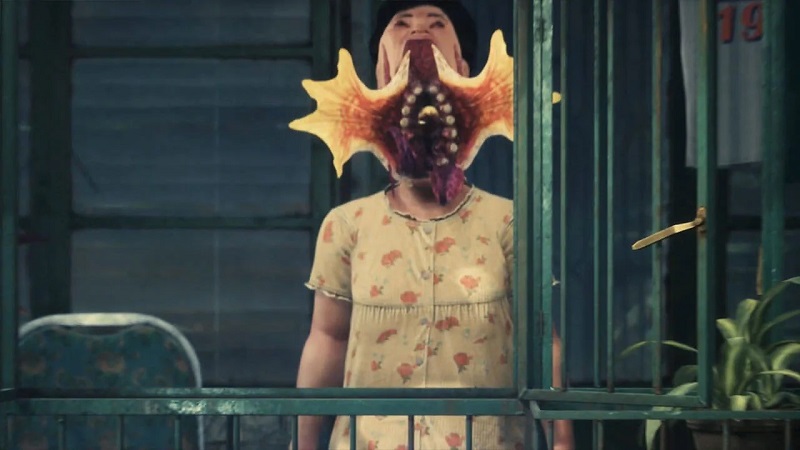 At this year's Game Awards, Bokeh Studios, with ex-Silent Hill creator Keiichi Toyama at the helm, revealed a rather gory and action-oriented trailer for their upcoming game Slitterhead. At that point, very little was known about what the new horror title was going to be like. The creepy monster-human hybrids and rockin' soundtrack did little to clue us in to what we could expect from it. We didn't even know when the game would be coming out, or on which platforms. But some more details have recently come to light.
Speaking to IGN recently, Toyama has given a bit more information about Slitterhead, such as the gameplay and setting. In the interview, he chose his words carefully, being cautious about revealing too much, but has confirmed that the game will be "action-oriented" and be in "third-person." He went on to say that there will be additional mechanics that will likely give players a "unique experience."
Many have also been quick to point out that the trailer appears to show the game taking place in a Hong Kong-esque city. Toyama has said that, while the locale draws heavily from Asian aesthetics, the actual setting for Slitterhead will be fictional, with him adding that the game is going for a 1980s and 1990s look.
In terms of the gameplay itself, it seems as though players will be taking on the human-cum-monster creatures in a sort of Invasion of the Body Snatchers kind of way. Toyama says that the experience players can expect will revolve around "life and death and the process of decay throughout everyday life" as it becomes almost a guessing game as to which people are human, and which have been infected by the monsters.
Sadly, we still don't know when the game will be coming out, or which systems it will be coming to, but Toyama did say that the studio will be committing itself to production until "at least the end of 2022." He also said that he's hoping the game will be able to reach "as many players as possible," which suggests that it will be out on pretty much all the major consoles, as well as PC.
You can check out the Game Awards trailer for Slitterhead below. As always, more details will follow as soon as we hear about them.