Guillermo del Toro and Junji Ito, (ex Silent Hills alum) Get Together (Update)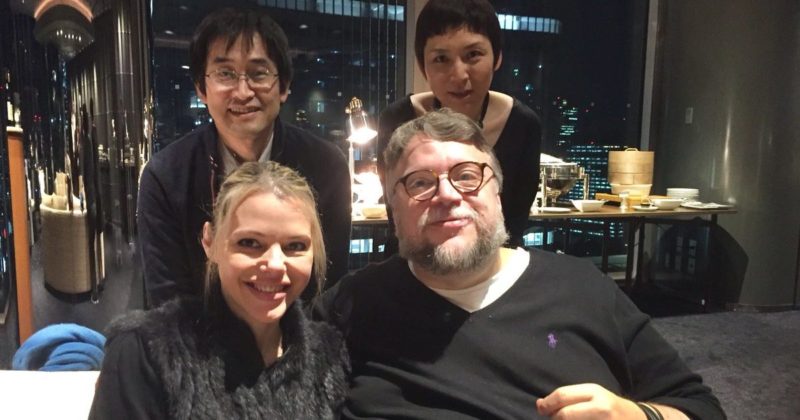 Update: As of 2/1, the tweet with the photo of Junji Ito and Guillermo del Toro together (seen above) has since been deleted. We're not sure why.
Original Text:
Hopefully, this wasn't just a casual visit.
So Guillermo del Toro, Junji Ito and Hideo Kojima were three of the key figures involved with the famously defunct Silent Hills. After three years, and nothing at all about the future of Silent Hill even as a brand, it's hard not to feel at least a little excited when all their names (despite only being involved in that one project) end up together again, which they have now. They hung out this week and tweeted tons of pictures and more about how fun it was. del Toro and Ito went to a special "preview and talk show" for del Toro's The Shape of Water. Kojima doesn't show up in any of the pictures, unfortunately, but he definitely hung out with del Toro at least. The three could have met up otherwise for some game-related shenanigans.
ギレルモ・デル・トロ監督の傑作新作映画「シェイプ・オブ・ウォーター」の試写会とトークショーに行ってきました。半魚人の愛らしい表情や人との繋がりに目頭を熱くしました。町山智浩さんと監督のトークショーで、映画のより深い意味が理解できました! pic.twitter.com/oxsI85z4ps

— 伊藤潤二 (@junjiitofficial) January 30, 2018
Now of course, (outside of del Toro, who's pretty obviously involved in Kojima's Death Stranding) it's important not to read too much into this. These guys know each other and have worked with each other, and publically hanging out isn't an indication of anything. This is not a chance to start trying to piece together all the weird little pieces of the latest NeverBeGameOver conspiracy, and no matter what these dudes do together Silent Hills is dead, dead, dead and isn't coming back in any form. But it does make me hopeful that, maybe someday, these guys will all work on a project together again. Maybe they already are; maybe Death Stranding involves Junji Ito on some level. We still don't know what del Toro's level of involvement is, outside of being the model a character in one of the trailers was based on.
We here at Rely remain hopeful for something cool from these guys, at the very least. Is it Death Stranding? Maybe. But we'll just have to wait and see.