Silent Hill: Revelation 3D begins principal photography, Adelaide Clemens cast as Heather Mason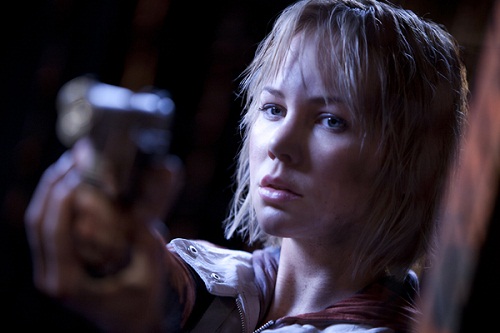 Resident Evil isn't the only one with revelations to pour on fans, the upcoming Silent Hill: Revelation 3D has just begun principal photography. And yes, this means we have our Heather Mason. Playing the role will be Adelaide Clemens who appeared in X-Men Origins: Wolverine as will be also appearing in the upcoming Mad Max: Fury Road. Below you can find the official press release for the upcoming film, but what do you guys think about this casting choice? You can see Clemens in the picture above dressed for her role. Yay or nay?
RISING STARS ADELAIDE CLEMENS & KIT HARINGTON TO TOPLINE SAMUEL HADIDA & DON CARMODY'S SILENT HILL: REVELATION 3D

FILM BASED ON THE BEST SELLING KONAMI VIDEOGAME FRANCHISE TO BEGIN LENSING ON MARCH 7 IN TORONTO

Toronto, Canada – March 7, 2011: Davis Films producer Samuel Hadida and Don Carmody announced today that rising star Adelaide Clemens (X-Men Origins : Wolverine, Vampire, Camilla Dickinson, Wasted on the Young, next starring in Mad Max: Fury Road) and Kit Harington (HBO's upcoming series Game of Thrones) will top-line Silent Hill: Revelation 3D.  The film begins lensing in Toronto on March 7th and is directed by Michael J. Bassett (Solomon Kane, Deathwatch). Alliance Films will distribute in Canada.  International sales are being handled by Lionsgate.

Hadida and Carmody most recently produced Resident Evil: Afterlife 3D starring Milla Jovovich, Ali Larter, and Wentworth Miller.  Past collaborations include Resident Evil: Apocalypse and the earlier Silent Hill.

Hadida said: "We are all excited to have the Silent Hill team reunited in Toronto.  With Michael at the helm, we will be building on the first film and taking Silent Hill into new territory with an exciting storyline and visuals that should grab both new audiences and fans of the Silent Hill franchise."

Carmody added: "Adelaide is breaking out of the indie world with commercial features such as X-Men and the upcoming Mad Max: Fury Road.  She and Kit are emerging young talent and their chemistry and dynamics make them a brilliant addition to the Silent Hill team."

Silent Hill: Revelation 3D is based on the acclaimed survival horror videogame franchise by KONAMI and is the sequel to Hadida and Carmody's earlier Silent Hill directed by Christophe Gans. For years, Heather Mason (Clemens) and her father have been on the run, always one step ahead of dangerous forces that she doesn't fully understand. Now on the eve of her 18th birthday, plagued by terrifying nightmares and the disappearance of her father, Heather discovers she's not who she thinks she is. The revelation leads her deeper into a demonic world that threatens to trap her in Silent Hill forever.