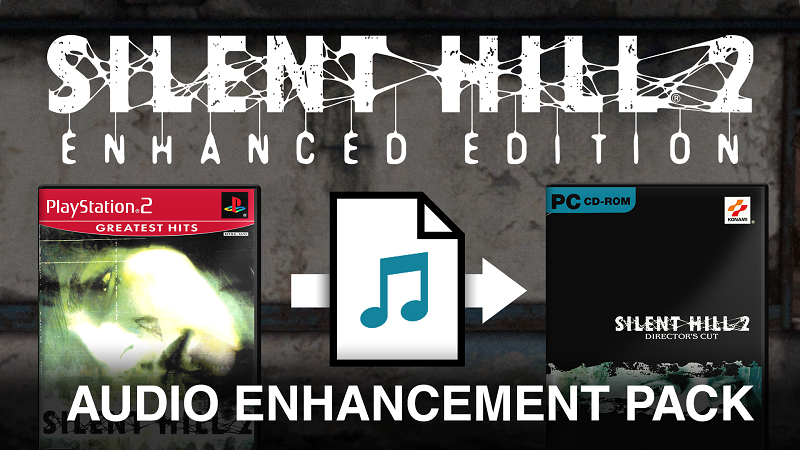 After the infamous Silent Hill HD: Collection released in 2012 to much disdain by fans due to its unfaithful changes and inconsistencies, fans have longed for a way to truly play their favorite Silent Hill games in HD on a modern platform. Today, a new piece of the puzzle has become available, rounding out a full list of Silent Hill 2 mods to give fans the Silent Hill 2 remaster they deserve.
Diehard fans debate that the best way to play Silent Hill 2 at its best is with the original PS2 release. But for those seeking a high resolution, emulating the PS2 game is your next best option. Last, but well ahead of the official HD remaster, would be playing Silent Hill 2's discontinued PC port. The downside with the PC port, though, is that it suffers from poorly implemented visual and audio effects — a stark downgrade from the PS2 version. Digital Foundry made a great video explaining all of the differences here.
A group of intrepid fans have today released the Silent Hill 2 Audio Enhancement Pack, a complete fix to restore the PC version of the game's audio to its full quality. If you weren't aware that the PC version had inferior audio to begin with, check out their comparison video embedded below. The mod simply requires some files to be added to the installation folder. Full installation instructions are here.
The Audio Enhancement Pack joins existing Silent Hill 2 mods Widescreen Fix, FMV Enhancement Pack, and the Fog fix. These mods and more make up the fan named Silent Hill 2: Enhanced Edition. Those with an existing copy of Silent Hill 2 PC installed can go here to download everything they need for a proper Silent Hill 2 remaster. Fixes for Silent Hill 3 and 4 are available as well.
Hey, Konami. Embrace these mods and give GoG a call for a formal re-release, wouldya?
[Source]