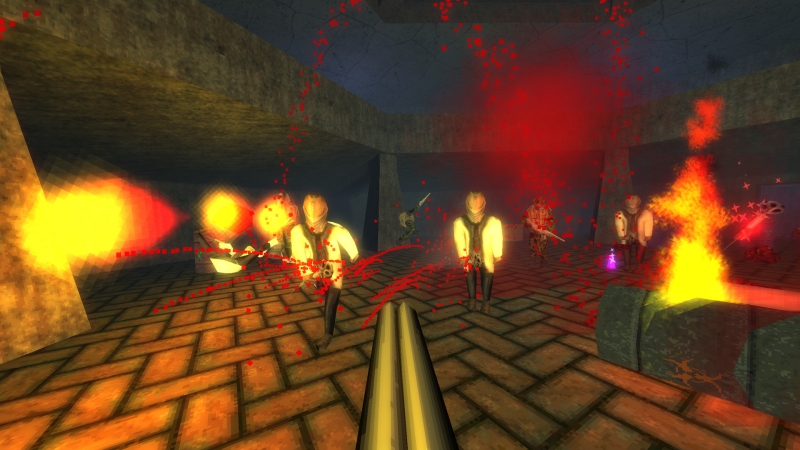 Between indie creators like PuppetCombo, 98Demake, and Kitty Horrorshow, the low-poly aesthetic is making a big comeback in horror games. Of course, while these games tend to take more inspiration from PS1 titles, there are also a host of indie FPS's taking cues from PC horror shooters like DOOM and Blood.
If you're a fan of horror or first person shooters, you've no doubt heard of DUSK by now. Developed by Fingerbones creator David Szymanski and published by New Bloods Interactive, DUSK is a love letter to the level design, combat encounters, weapons, and aesthetics of classic 90's FPS games. The game's first two episodes have been in early access for a while now as fans have waited for the Episode 3, and the games' accompanying full launch. They won't have to wait much longer.
New Bloods revealed yesterday via its YouTube channel that DUSK will be making its Steam debut on December 10, 2018. This full release will include all three episodes, and based on the short snippets of new footage in this trailer, Episode 3 will be the craziest, most elaborate DUSK content seen so far. You can take a look at the trailer down below.
As a massive fan of retro FPS games I've been looking forward to DUSK with baited breath. I've played through much of Episode 1 and 2 during the game's early access phases, and I'm eager to jump into Episode 3 when it launches. It's an impressive effort, especially from such a small team, and it manages to stand shoulder to shoulder with its inspirations, rather than feeling like a pale imitation.
However, I am still curious about the previously announced Nintendo Switch port, which hasn't been heard from since its announcement earlier this year. I love my Nintendo Switch, but after putting more than 100 hours into Wolfenstein II and DOOM on the system, I'm craving some — New Blood — to satisfy my FPS craving.
See what I did there? Yeah I hope it comes to Switch soon.