Retail Version of The Deadly Premonition Board Game is Coming in 2018!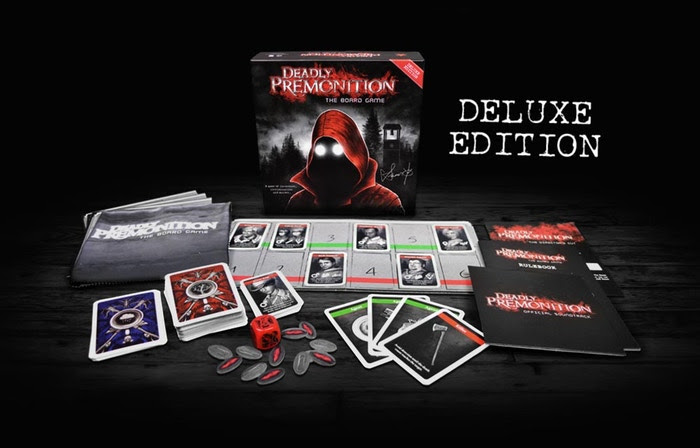 Exciting news for those who missed out on backing the Deadly Premonition Board Game Kickstarter a few months ago — Rising Star Games has announced that a retail version will be in stores very soon!
"After the phenomenal Kickstarter campaign we have been working hard to transform our concept into a reality." said Samuel Elphick, co-creator of Deadly Premonition: The Board Game. "This week we see our wonderful backers receiving their pledge rewards and we have been overwhelmed by the positive feedback. It is a delight to now announce that we will be making the board game available to even more Deadly Premonition fans who may have missed the opportunity first time around."

"This new Deluxe edition of the board game is in honour of the campaign that made this project possible. It features some of our favourite items which make the board game special and capture that Deadly Premonition spirit. Whack on the soundtrack, lay the cloth upon the table and hold your breath when the Raincoat Killer claims suspects with the bespoke murder die. This is how we want the game to be played! Deadly Premonition: The Board Game Deluxe Edition will be available early next year to everyone."
The board game will launch as a new "Deluxe Edition" featuring premium game-enhancing items such as the custom die, original soundtrack, a themed gaming cloth, and a PC download key for the Deadly Premonition PC game at selected retail stores on January 31, 2018 for $59.95.
ABOUT DEADLY PREMONITION: THE BOARD GAME DELUXE EDITION

Welcome to Greenvale. In this small mysterious town a young woman has been murdered. Anna Graham's death marks a tragic loss for the community.

The town is home to many strange characters. With no significant leads on the killer, each must be considered a suspect. It's time to kick-start the investigation and get to work, isn't that right Zach?

Each agent has been assigned six suspects to investigate. You must protect the innocent, uncover incriminating evidence, apprehend an accomplice and identify the hidden killer among you before it is too late.

Game Length: 30-45 minutes
Recommended age: +18
Players: 2-4
Contents:

Cloth Gaming Mat
1 Custom Die
Original Soundtrack
60 Profiling Cards
24 Suspect Cards
Token Sheet
4 Line-Up Boards
4 Alignment Cards
5 Agent Bio Cards
4 Guide Cards
10 Weather Cards
Rulebook
Steam key for Deadly Premonition: The Director's Cut
[Source]